The No-Fuss KBS Bread Machine Cookbook: 1500-Day Hands-Off Recipes for Perfect Homemade Bread (Hardcover)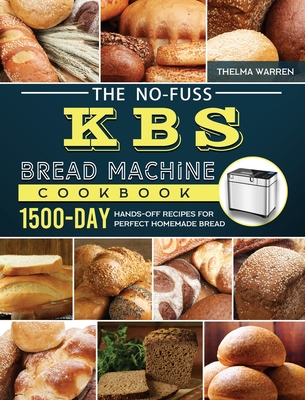 $36.44

Available in our Warehouse: Usually Ships in 3-8 Days
Description
---
Essential guidance and simple recipes for making delicious loaves with your bread machine
Finally, a cookbook that shows you how to use your bread machine for its intended purpose―convenience Create your own fresh, piping hot loaves quickly and easily with The No-Fuss KBS Bread Machine Cookbook, where you'll find hassle-free recipes for making mouthwatering homemade bread.
These recipes use easy-to-find ingredients and require minimal work on your part―just throw everything in your bread machine and let it work its magic. Whether you have a 1-pound, 1.5-pound, or 2-pound bread machine, these set-and-forget recipes will serve as your fail-proof foundation for exciting new bread creations.
The No-Fuss KBS Bread Machine Cookbook includes:
YOU KNOW BREAD MACHINE BAKING TIPS. You will find useful secrets for baking healthy bread at home.
EAT A TASTY AND FRAGRANT HOMEMADE BREAD. You will find easy-to-follow but original basic bread machine recipes for your home appliance.
HOMEMADE BREAD MACHINE LOAF LOOKS SALIVA DROPPING. Lovable photos, clear & simple instructions, nutritional information will depict you the ready hoped-for product.
HOW LONG DOES IT TAKE TO BAKE? Each bread machine recipe is furnished by cooking and preparation time.
YOU KNOW WHAT TO BUY FOR BREAD BAKING. For your convenience, we've put the grocery list and the list of useful kitchen tools for the ideal bread machine baking.
FIND BEST BREAD MACHINE RECIPE AIRILY. You can find any homemade bread machine recipe at the Table of Contents by the main ingredients or at the Recipe Index alphabetically.
The best sweet bread machine recipes in this bread machine recipe cookbook allow you to create healthy breads with a conventional kitchen appliance.
It seems incredible that the simplest directions and common and available ingredients can result in an aromatic loaf that everyone will love.