Workshop of the World (Paperback)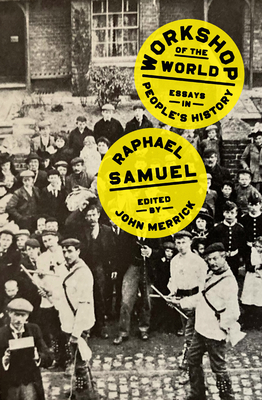 $34.95

Coming Soon - Available for Pre-Order Now
Description
---
A new collection of essays from one of the most influential historians of the twentieth century

The work of the pioneering historian Raphael Samuel helped opened up new vistas of historical enquiry, bringing about the democratisation of the historical discipline, as well as its practice via the influential History Workshop movement of which he was a founder.

Yet much of his own historical research remains inaccessible to the general reader, hidden in academic journals and obscure volumes. Now, for the first time, Workshop of the World brings the full range and depth of Samuel's historical writing on nineteenth-century Britain to the fore.

From his pioneering study of the influence of the Catholic Church on England's Irish population to his expansive and erudite essay on the itinerant labourers of Victorian Britain, The Workshop of the World shows both the breadth and depth of his learning. Guided by both a political engagement as well as a methodological commitment to uncovering the stories of ordinary people, The Workshop of the World will help introduce Raphael Samuel's work to a new generation of readers.
About the Author
---
Raphael Samuel (1934–1996) was a leading figure of the New Left, and a founding editor of History Workshop Journal. His works include Theatres of Memory and Island Stories.

John Merrick is an editor at Verso Books. His essays and criticism have appeared in New Left Review, Guardian, Baffler, Jacobin, and elsewhere.
Praise For…
---
"Workshop of the World reveals how Raphael Samuel dived into the nineteenth century to find just how onions were pickled or the temperature of cheese tested, extending far and wide from rough sleepers in Willesden to Roman Catholic missionaries in Wallasey. John Merrick's collection of Samuel's essays provides the reader with an invaluable introduction to the political and cultural background which inspired this insightful and exploratory radical historian."
—Sheila Rowbotham

"These essays are works of extraordinary intellectual energy, refusing to identify method with political orientation, luminous in their historiographic clarity, which turn our attention from the commonplaces of history to the exceptions that deny the cliches:  to a post- 1800 world driven by seasons, not the clock, a post-industrial revolution world of production dominated not by the factory, but the farm, the workshop, the cottage, where skills are created and work degraded, where the machine does not rule; of peri-urban villages of brickmakers, and much, much more besides. A feast of erudition with purpose."
—David Edgerton, author of The Rise and Fall of the British Nation