Passive Income Ideas: 101 Passive Income Ideas Under $1000 (Hardcover)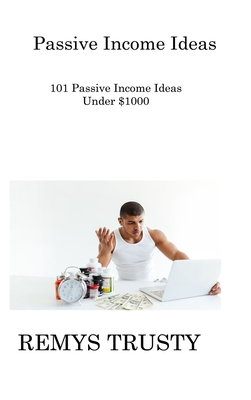 $39.95

Available in our Warehouse: Usually Ships in 3-8 Days
Description
---
I want you to imagine what you could do with an additional income stream that allows you to earn money passively...
As we all know, there is no magic trick that turns your time directly into money. However, there are ways to make money passively that do not require you to take on another 'job.'
You know the famous saying: "Don't work for your money. Make your money work for you." Many people often assume that this is easier said than done.
But, believe it or not, there are several easy ways to earn passive income which will make your money work for you Yes, some of the ways may involve some work, time, and money upfront, but once that's taken care of, you can sit back and watch your bank balance grow.
This sounds like exactly what you have been looking for, right? But, how do you know which business is right for you?
Well, imagine having a piece of concise and insightful information guide about 101 different businesses, all under $1000, available at your fingertips. Imagine knowing upfront which business isn't for you and, in the process saving yourself a lot of stress, time, and wasted money.
That's exactly what this guide is here to do.
'Passive Income Ideas: 101 Passive Income Ideas Under $1000' has been written to show you 101 different businesses you can start today to grow a passive income both online and offline.
The 101 Passive Income Ideas include:
CPA Affiliate Marketing
Peer-to-Peer (P2P) Lending
Dropshipping/Ecommerce
E-book Publishing
Blogging
And many, many more
To make things even easier, each of the ideas has been given their respective risk score, operating or launching costs, performance difficulty level, and profit potential, so you know exactly which business suits your needs best.
Now that you are ready to take charge of your financial future and have the best resource on the market available to you, nothing stops you from creating a better life for you and your loved ones.
Don't wait another minute. Grab your copy of 'Passive Income Ideas: 101 Passive Income Ideas Under $1000' and change your life today