C#: 3 books in 1 - The Ultimate Beginner, Intermediate & Advanced Guides to Master C# Programming Quickly with No Experien (Paperback)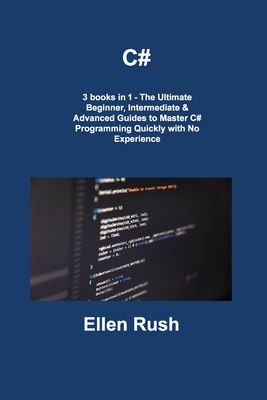 $49.95

Available in our Warehouse: Usually Ships in 3-8 Days
Description
---
Do you want to learn C# Programming quickly and easily?
Do you want to build robust & durable applications, whether you are a beginner or more experienced?
Are you looking for a step-by-step guide that is practical & easy-to-understand?
If yes, then this book is for you
If you want to master C# faster than everyone else, while learning in a simple way, look no further
You'll have one book on C# and a bundle of 3.
C#: 3 books in 1 is great for people looking to improve their job prospects and careers, developers wanting to excel in their programming skills, build robust and secure applications - even if they have no prior coding knowledge
This guide aims to make it simple for you to begin your journey, regardless of your skills or expertise. Each chapter of this book builds on the previous chapters in an easy step-by-step approach.
1. You will study theory and how to put it into practice RIGHT NOW.
2. You will find not only a simple instruction manual that doesn't just concentrate on theory and boring explanations but also a dynamic and interactive GUIDE that offers solid practical experience.
3. All the essential tools and best strategies to learn C# for complete beginners + advanced knowledge for those with more experience.
With 3 books in 1 - The Ultimate Beginner, Intermediate & Advanced Guides to Master C# Programming Quickly with No Experience, you will discover:
C# - The Ultimate Beginners Guide To Learn C# Programming Step-by-Step:
An introduction to the C# language
The basic concepts and principles of writing computer programs
Understanding data types & variables
How to work with variables
The different data types supported by C#
Understand operators, expressions & when to use them on data
Understanding the console input & output
Definition of classes & its implementation
Working with text files
C# - The Ultimate Intermediate Guide To Learn C# Programming Step-By-Step:
How C# was created and where it comes from
Advanced decision statements and flow control
The many functions available
Garbage collecting
What Asynchronous Programming is and what it does
...
C# - The Ultimate Advanced Guide To Learn SQL Programming Step-by-Step:
Advanced C# language features
building class libraries
Type reflection and late binding
Attribute-based programming c+ and dynamic assemblies
Windows presentation foundation
ASP .NET
.NET CORE
And much, much more...
With these practical and in-depth 3 books in 1, start writing your programs quickly and efficiently and increase your performance.
If you want to access the best knowledge on C# and learn well & fast, then you must start this guide today