Hoodoo for Beginners: Discover the Far more Powerful Hoodoo Spells that Use Roots, Herbs, Candles, and Oils to Chase\sAway Negative Energy a (Paperback)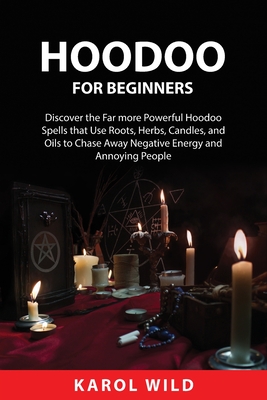 $29.69

Available in our Warehouse: Usually Ships in 3-8 Days
Description
---
Do you know what Hoodoo is and what it entails? Do you want to discover folk magic that will make your life better? Do you know the native spiritual practices of Africa? You will gain a thorough understanding of Hoodoo methods to improve your happiness, success, health, and validation in your romantic relationships with the help of this new handbook. Hoodoo, which has its roots in the United States, is an umbrella term for a variety of spiritual practices, customs, and accepted beliefs that originated in several traditional African folk religions. You have the opportunity to practice hoodoo right now in order to realize your full potential and improve your life. You will discover a variety of straightforward charms to ward off evil, enjoy spiritual protection, and enhance your pleasure.
The foundation of hoodoo is love: love for one's ancestors, one's culture, one's family, one's friends, and one's fellow human.
Hoodoo is a crucial component of African-American communities, and the rest of the world should embrace it and appreciate it rather than pervert it or utilize it as a tourist attraction.
Practitioners of hoodoo have frequently been compelled to hide out underground due to its negative background.
Because of this, understanding the underlying meaning of hoodoo is difficult to learn, but only temporarily.
Discover the real Hoodoo in this amazing guide-the Hoodoo of your ancestors who battled oppression and inequity for generations while also bringing peace and happiness into their lives.
What you will find in hoodoo is:
A thorough account of the history of hoodoo, from its origins in West Africa until the present
A description of the cosmology, principles, and practices of hoodoo
A thorough explanation of the fundamental instruments used by practitioners of hoodoo, including instructions for creating your own ancestral altar
The most thorough manual on herbal magic and rootwork, including a wealth of knowledge on gathering, preserving, and drying your plants
Regardless of skill level, anyone can cast effective White and Red magic spells.
a guide on candle colors and oils to increase the strength of your spells, as well as comprehensive candle-making instructions.
Making mojo bags is easy with these detailed instructions for a range of personal uses.
plus a lot more.
Your family, your neighborhood, your perspective on the world, and ultimately your life have all been influenced by your roots and history.
You have the opportunity to learn about that history using this guide without being distracted by biased or false information.
Learn the true meaning of hoodoo and let your ancestors to guide you toward a better life.