Caste, Conversion A Colonial Conspiracy: What Every Hindu and Christian must know about Caste (Paperback)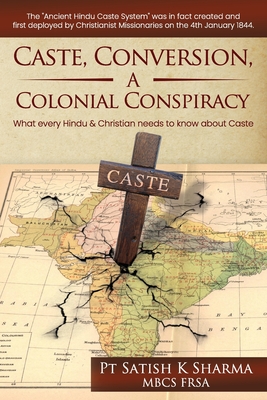 $11.49

Available in our Warehouse: Usually Ships in 3-8 Days
Description
---
Almost everyone on the planet has heard of the "Ancient Hindu Caste" system and somehow, almost everyone knows how horrible it is, but what if it wasn't ancient and it wasn't Hindu? Almost everyone on the planet knows that the colonialist erasure of indigenous languages and ideas was a horrific chapter in human history, but what if it's not over, what if it's morphed in to a new form, just as devastating and destructive, and what if the Caste issue holds the key to revealing it?
Every Hindu walks through life carrying a subliminal guilt that his or her ancestors were "caste discriminators" and every devout Christian walks tall and proud in the knowledge that his or her ancestors helped to free the crushed, downtrodden from the depraved Hindoo caste system, and being an accepted "truth" no-one questions it any more. What if they are both victims of the same deception, of the same multigenerational fraud?
In 2016, the British Hindu community was rocked when it became the target of demonisation and dehumanisation by anti-Hindu Anglican Evangelists. Allegations were made that caste discrimination was not a relic of history but was present and not only present but rife amongst the British Indian community. The difficulty was that there was no experience of it at the grass roots level, and there was no evidence of it being either systemic nor endemic, so what was afoot? The author Pt Satish K Sharma, a Dharmic Scholar and Theologian and a long serving community worker under took the task of determining, once and for all, the real history of Caste and of establishing and quantifying its presence or absence in the Britain of the 21st Century. There were mountains of academic accounts of the theory, allegations and anecdotes abounded and yet the reality at ground level was remarkably different.
The revelations contained in this work were the revelations which incinerated the false claims which had been levelled, revealed the hidden hand behind the anti-Hindu media campaign but also provided the context and framework with which this long running civilisational wound could heal.
The contents of this book include actual communications which took place, the information which was presented to Parliamentarians. Legislators and Community leaders as well as eye witness accounts of meetings and "consultations", as well as the authors research, research which led eventually to the senior leaders of the Church of England requesting that Parliament review the whole issue once more.
We have the strange situation that Parliament passed legislation without adequate consultation and the Government chose not to enact the legislation, a phenomenon never before arisen in British History, this book provides the answers as to why. The Caste issue remains a colonialist force for harm, and the tropes which underly it cause suffering to the Hindu community in every corner of the world even today, as Isabel Wilkersons recent tragically uninfomed book prove. This book will go a long way to to reversing this harm and should be compulsory reading for every Hindu, Christian and activist working to reverse the civilisational trauma of European Colonialism
"I find it extraordinary that there are issues here of which until now I have had absolutely no knowledge. My feeling is that the majority of native Britons will share this reaction. The Church, Christianity, which had perverted the simple message of its founder, believed it could justify imposing its version on a "primitive" people with a concept of original sin and the claim that it alone possessed the means to personal salvation. Between them, they were able to devise an extraordinarily successful divide-and-rule format which did immense damage to that country... Please forgive us now, so that we can move forward together."
M Purton BBC Producer (Retd)