Life Meets Art: Inside the Homes of the World's Most Creative People (Hardcover)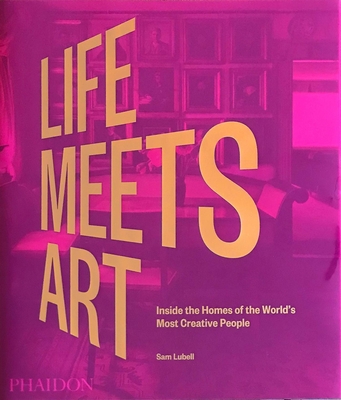 Description
---
"Endless inspiration." —Town & Country
An inspiring collection of the extraordinary private spaces of 250 of the world's most creative people, past and present
Life Meets Art presents an unparalleled, global, behind-the-scenes tour through 250 beautiful interiors from the homes of the most creative people in art, architecture, design, fashion, literature, music, film and theatre.
These inspiring, unique spaces show us where the greatest creatives in history lived their lives, honed their crafts and, in many cases, produced some of the world's most celebrated masterpieces â?? providing an intimate and insightful perspective on the masters that define artistic history.
Organized alphabetically by artist, each interior features a color photograph and a short descriptive text, including details on whether the house is open to the public or private.
This book will inspire anyone fascinated by stylish living, creative interior design and the myriad possibilities for home décor, as well as those fascinated by the personal and professional lives of their cultural heroes.
Life Meets Art includes homes from masters of past centuries such as artists da Vinci, Raphael and Rubens, composers Handel, Lizst and Verdi and writers Dickens, Byron and Coleridge. The book also showcases the extraordinary interiors of many twentieth century stars and epoch-defining talents such as architects Frank Lloyd Wright, Eileen Gray, Le Corbusier and Walter Gropius, artists Pablo Picasso, Marc Chagall and Henry Moore, writers Ernest Hemingway, William Faulkner and Agatha Christie and musicians Louis Armstrong, Frank Sinatra and Elvis Presley. Homes from some of the most celebrated talents of today are also featured, including artists Francisco Clemente, Cornelia Parker and Gilbert and George, fashion designers Alexander McQueen, Marc Jacobs and Diane von Furstenberg, designers Marc Newson and Es Devlin and musicians Moby, Jimmy Page and David Bowie.
From the publisher of Interiors: The Greatest Rooms of the Century.
About the Author
---
Sam Lubell has written eight books about architecture, including California Captured and two travel guides to mid-century modern architecture in the USA, all from Phaidon. He is a contributing editor at The Architect's Newspaper and writes for the New York Times, Los Angeles Times, The Atlantic, Architectural Record, Architectural Review, and other publications.
Praise For…
---
"Life Meets Art, a new book by Phaidon, takes readers inside the homes of 250 prominent creatives throughout history to provide visual inspiration for interior design, decor and stylish living." —DuJour
"Fascinating... interior styles range from baroque, classical, and arts-and-crafts to romantic, minimal, maximal, and modernist, spanning the 15th century to the present, offering inspiration for myriad tastes." —Publishers Weekly
"Inspiration abounds in a beautiful new coffee-table book." —Garden & Gun
"This vibrant coffee table book visits the homes of creative people, including Leonardo da Vinci, Louis Armstrong, and David Bowie, promising endless inspiration. " —Town & Country
"Life Meets Art is filled with the inspiring spaces of some high profile creatives." —HGTV
"There are some wonderful lessons to be drawn... a valuable book. The photos are beautiful and the commentary interesting; Lubell... is a master of the form." —1stdibs
"We could all use a little inspiration right about now, and this new book certainly fits the bill. Life Meets Art leaves much to ogle at, and is a feast both for the eyes and imagination." —Fast Company
"It's only natural when moseying around an art fair to imagine how the works on show might look in your house. For inspiration, have a leaf through Life Meets Art - a book that invites you to peer inside the homes of some of the most creative folk in the fields of art, architecture, fashion, music and design." —The Modern House
"A global photographic tour." —Art Mag
"Each interior shows not just how the artists shape their spaces, but also reveals stories about the people who live, or lived, in them." —ELLE Decoration
"Luxuriate in the interior worlds of artists, designers, architects and more, from modernist shrines to maximalist palaces." —Elephant Magazine
We appreciate your continued support!
If you would like to make a donation to help us through CLICK HERE.