The Ultimate Book of Impostors (Paperback)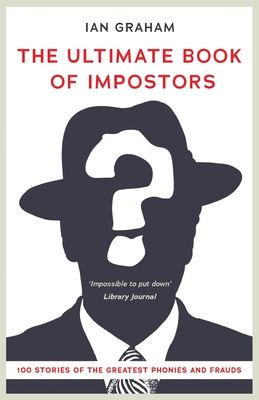 $17.24

Available in our Warehouse: Usually Ships in 3-8 Days
Description
---
True stories of more than a hundred of the boldest and most brazen impostors of the past 500 years.
Their stories range from the curious lives of small-time criminals to royal pretenders, notorious murderers and some distinctly peculiar fantasists.
You'll find out who the exotic dancer Mata Hari and the mysterious Cazique of Poyais really were and why they hid behind false identities. You'll meet some of the most bizarre, sinister and fascinating people who ever lived... with someone else's identity.
They tried to steal fortunes and kingdoms. They impersonated pilots, doctors, native Americans and movie directors. One sold the Eiffel Tower, twice, and another held an airliner for ransom. Fingerprinting, photo-ID, iris scanning and DNA profiling have made it more difficult to use a false identity today, but digital media has given birth to a whole new generation of cyber-impostors.
Think you know who your friends are? Think again...
Praise for Ian Graham:
'The Ultimate Book of Imposters is well-researched, accessible, and difficult to put down. Ideal for some light reading, this is a great book to dip in and out of when you have some spare moments' - Pop Culture Z
'Graham exposes the truth behind the world's wildest fraud - and why they did it - and reveals that even those we think we know best may not be exactly who they seem to be' - Sunday Tribune
Ian Graham is a British author of popular science, technology and history books. After studying physics and journalism at university, he worked as a magazine journalist before switching to books. He was a joint winner of the 2012 Royal Society Young People's Book Prize and was shortlisted for the 2014 Educational Writers' Award.