World Classics Library: Homer: The Iliad and the Odyssey (Hardcover)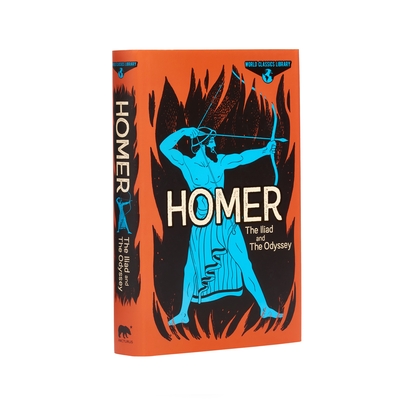 $19.99

Available in our Warehouse: Usually Ships in 3-8 Days
Description
---
The Iliad and The Odyssey are two epic poems from Ancient Greece which have become cornerstones of Western literature. This stunning jacketed hardcover brings together these two works in accessible prose translations, ideal for those wanting to be thrown into the action of these thrilling tales.
In
The Iliad,
the Greek's best warrior Achilles has abandoned the war with the Trojans on a mission of revenge. Only the death of his best friend Patroclus persuades Achilles to return to battle and confront the Trojan leader Hector in single combat.
The Odyssey
is set after the Trojan War as Odysseus sets off on his ten-year journey home to Ithica, encountering natural and supernatural threats along the way. Filled with fallible gods and foolhardy heroes, these two classic works offer incredible insight into ancient Greek mythology and culture as well as remaining thrilling tales in their own right.
ABOUT THE SERIES:
The World Classics Library series gathers together the work of authors and philosophers whose ideas have stood the test of time. Perfect for bibliophiles, these gorgeous jacketed hardcovers are a wonderful addition to any bookshelf.
About the Author
---
Sources from classical antiquity posit Homer as a blind bard from what is now Anatolia, Turkey. The Homeric question debates this, asking if The Iliad and The Odyssey, written in the late 8th or early 7th Century BC, were indeed the work of one genius or of a series of contributors and numerate rewrites. Whichever is true, Homer as a person, or a group of people, there is no doubting the significance of their contribution to Western literature. Samuel Butler (1835-1902) was an English novelist, essayist, and critic whose satire Erewhon (1872) foreshadowed the collapse of the Victorian illusion of eternal progress. He is known for his translations of the Iliad and Odyssey which are still consulted today. The Way of All Fresh (1903), his autobiographical novel, is generally considered his masterpiece). T.E. Lawrence (1888-1935) was a British scholar and military officer, also known by the names T.E. Shaw and Lawrence of Arabia. He is best known for his legendary war activities in the Middle East during World War I and for his book on the conflict The Seven Pillars of Wisdom. He is also celebrated as one of the major letter writers of his generation and for his prose translation of the Odyssey.