African Myths & Legends: Tales of Heroes, Gods & Monsters (Flame Tree Collector's Editions) (Hardcover)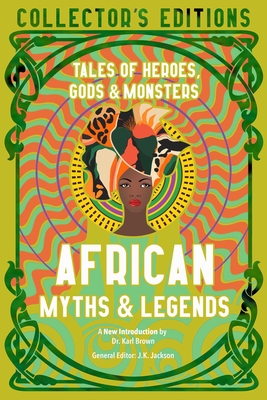 Description
---
Beautiful edition with a new introduction to the rich diversity of myth and legends across the many peoples of Africa, highlighting the origins of modern fiction in myth and fable.

Gorgeous Collector's Edition. With its powerful tradition of storytelling, the myths of the continent of Africa have survived colonialism and slavery, bringing together a rich diversity of cultures from Ethiopia to Tanzania, from the Xhosa people to the Yoruba. This collection offers tales of the gods, creation stories, trickster adventures, animal fables and stories which amuse and teach from 'The Tortoise and the Elephant', from the Akamba of Kenya, to 'Why the Moon Waxes and Wanes', from Southern Nigeria, providing an insight into the boundless and vibrant world of African myth.

Flame Tree Collector's Editions present the foundations of speculative fiction, authors, myths and tales without which the imaginative literature of the twentieth century would not exist, bringing the best, most influential and most fascinating works into a striking and collectable library. Each book features a new introduction and a Glossary of Terms.
About the Author
---
Jake Jackson has written, edited and contributed to over 20 books on mythology and folklore. Related works include studies of Babylonian creation myths, the philosophy of time and William Blake's use of mythology in his visionary literature.

Sola Owonibi, an award-winning African poet and playwright, is a professor of African literature with African oral literature among his areas of expertise. A research scholar at the Centre for African Studies, University of Florida, Owonibi is also a fellow and member of various African literature and humanities associations and programmes.