Triumph Bonneville: The Essential Buyer's Guide (Paperback)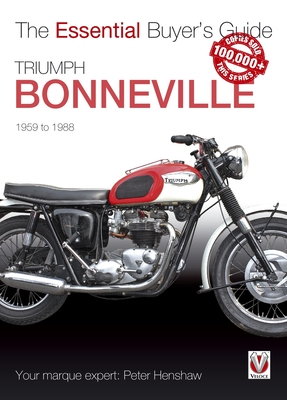 $27.50
This item is not currently available to order.
Description
---
There are lots of books about the Triumph Bonneville, about its history, performance, lineage and the minutiae of its specification, but none of them tell you what to look for when buying one secondhand. That's what this book is about – it aims at being a straightforward, practical guide to buying a used Bonnie. It won't list all the correct color combinations for each year, or analyze the bike's design philosophy, or consider its background as part of a troubled industry – there are excellent books listed at the end of this one which do all of that. But hopefully it will help you avoid buying a dud. Point by point, it takes the reader through everything that needs looking at when buying a Bonnie, plus spares prices, which is the best model to buy for your needs, a look at auctions, restorations and paperwork. Over 29 years in production, the Bonneville is for some the definitive postwar British vertical twin, perhaps even the definitive British bike of all time, with all its strengths, weaknesses and character. Although there might seem to be a wide range of models and special editions, all are based around the same 649cc or 747cc vertical twin. There were plenty of changes over the years, but none of them changed the basic format of this classic British bike. Aside from all the history, the Bonneville remains a tremendous classic to own, so long as you're prepared to look after it. The last Bonnies truly deserve the term 'practical classic.' Whichever one you choose, it should be fast, agile and good looking, and on a twisty English B road, there's nothing like a Bonnie. One hundred color photos, useful appendices and expert advice mean this book could save you 1000's.
About the Author
---
Peter Henshaw has had an enthusiasm for anything with wheels from an early age - from bicycles to 500hp tractors. He was the editor of Motorcycle Sport & Leisure for five years before going freelance, and now contributes to a whole range of transport magazines, including MSL, TAG, A to B and Tractor, as well as The Telegraph. He's also written over 30 books, including 10 about bikes, and is an all-year-round motorcyclist who does not own a car.
Praise For…
---
Review fromClassic Bike Guide, June 2008UK magazine
 
OK, so, you're tired of the flashy hyperbike scene and fancy something different. The retro scene and old motorcycles has started to appeal but the problem is you're completely new to old motorcycles and know nothing about them. Yes, you've seen them about and have probably even heard of a few of the makes like Triumph and BSA but beyond that ... well. What do you do to find out if the scene will suit you and what bike could be the one for you?
A useful first step could well be one of 'The Essential Buyer's Guides' by Peter Henshaw and published by Veloce Publishing if you're fancying a BSA twin or a Triumph Bonneville - OK and BMW GS as well. The buyer's guides are not an in-depth look at every machine, that would be difficult in a 64-page 7 11/16in x 5 7/16in soft back book. Instead they are squarely aimed at the newcomer and advise on model changes, recognition points, pitfalls and other things to be aware of when seeking out a classic.
A long time classic owner will find the information fairly run of the mill but if you're just starting out then it's all new and after reading 'The Essential Buyer's Guides' you should be able to spot a Bonnie from a T'Bird or an A7 from an RGS.
"With this little book you will know everything you need to look out for when you meet what may be your next vintage Bonneville, and insure you don't end up with your next vintage nightmare." – Two Wheels
"Even if you already own a Bonnie I reckon you could find it a worthwhile little book." – Mark Holman, Bike Rider