Private Gardens: Design Secrets to Creating Beautiful Outdoor Living Spaces (Hardcover)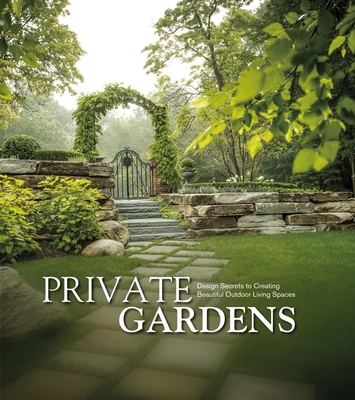 Description
---
Nearly forty phenomenal gardens and outdoor living spaces from around the world are profiled in detail, each beautifully photographed replete with stunning diagrams, sketches, and plans to showcase the optimal design strategies and conceptsReaders are guided by advice from well-established designers, who share tips on how they've constructed hardscapes that work with the surrounding architecture and outdoor living spaces with smart design features, such as audio-visual integration, LED lighting design techniques, innovative decking and pergola ideas, plus firepits, water features, pools and ponds, and so much moreThis beautifully illustrated volume takes a wander through nearly forty private gardens from around the world, each as diverse and varied as is the natural environment. Ranging across traditional to contemporary gardens styles from Europe, America and Southeast Asia, among many others, in these pages the homeowners and many professional landscape designers with years of experience in horticultural design explain how they've employed the optimal landscape proportions and design for the site, how they've dealt with the practicalities as well as challenges and difficult site characteristics, used the best planting schemes, used harmony with the right trees and plants, and overall built an environment that suits the architecture of the home and the needs of its inhabitants, which together encourage the homeowners to be able to relax and enjoy their space. Replete with luscious photography, landscaping plans, sketches, and plant details, this is essential reading for anyone who loves and admires gardens and is looking for inspiration to create a gorgeous private garden landscape around their home.
About the Author
---
A graduate from Michigan State University, with a degree in Landscape Horticulture with a focus on design. Kurt Schaus, Principal Designer of R. Youngblood & Co., has heightened the levels of all projects since his joining the firm in 2002. He is known for his ability to conceptualize a landscape plan that harmonizes with proven install specifications, overcomes site challenges, and functionally serves the desired vision and lifestyle. With a strong understanding of the relationship between site, architecture, and environment, Kurt effectively prioritizes the project scope to the most desirable outcome. He serves the firm and its clients greatly with his 30 years of experience and the understanding of what is behind the making of a garden. His role and abilities have allowed R.Youngblood & Co. to be the proud recipient of awards for garden design and excellence on several occasions.
We appreciate your continued support!
If you would like to make a donation to help us through CLICK HERE.