Miracle On Chestnut Street: The Untold Story of Thomas Jefferson and the Declaration of Independence (Paperback)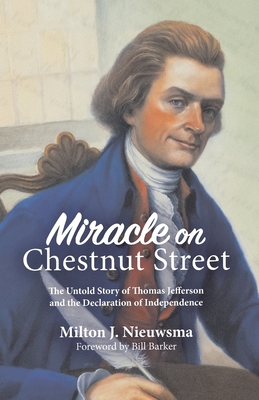 $16.95

Available in our Warehouse: Usually Ships in 3-8 Days
Description
---
Milton Nieuwsma explains why he wrote Miracle on Chestnut Street and reflects on Thomas Jefferson, the man and his legacy:
So why did you write this book?
"For a couple of reasons. One was to tell the story of the Declaration of Independence from Jefferson's point of view and in real time. The other reason was to restore his rightful place in history."
Why do you say that?
"Well, he's had a pretty rough go of it the past few decades, first because of DNA and then because of the 1619 Project."
What do you think is Jefferson's biggest legacy?
"More than anyone, he defined the idea of America, the idea that individual freedom is basic to our way of life. He was our country's first human rights champion. Even with all of our problems today, our country is still a beacon of hope and freedom to people around the world. We owe that mainly to Jefferson."
Tom Jefferson, a young plantation owner from Virginia, was the least likely member of the Second Continental Congress to make a name for himself. When he arrived in Philadelphia in 1775 it was by default; he had been sent as a substitute for a distant cousin. He resented having to leave his sickly wife and young daughters at home where they needed his attention. Most of all, he disdained politics.
Yet we associate Jefferson's name more than any other with what happened on the most important day in American history: July 4, 1776.
Notwithstanding many other defining moments in our nation's past-Appomattox, Pearl Harbor, the Apollo moon landing, 9/11 to name a few-the Declaration of Independence that Jefferson wrote and the Continental Congress adopted on that date symbolizes more than any other event what America stands for as a nation.
Now, for the first time, the story of that historic event is told from Jefferson's point-of-view. Drawing from his letters, journals, diaries and other sources, as well as from on-site research at Monticello (Jefferson's home in Virginia), Colonial Williamsburg and Independence National Historical Park in Philadelphia, two-time Emmy-wining writer Milton Nieuwsma recreates the sixteen most important months in Jefferson's life, from his election to the Continental Congress to the Declaration of Independence.
Miracle on Chestnut Street is not only an inside account of how a piece of paper came to define the American republic; it's the story of how a young man entered the world stage through the back door-and how the ideas he expressed in that document still resonate in the 21st century.