Do Open: How a Simple Email Newsletter Can Transform your Business (Paperback)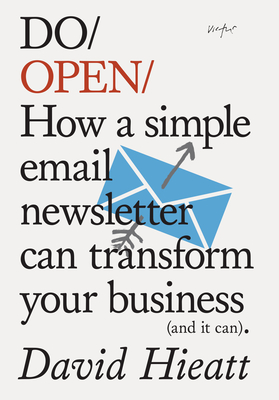 $16.95

Available in our Warehouse: Usually Ships in 3-8 Days
Description
---
How do you grow your business when you don't have a marketing budget?
How do you stand out in a busy world?

And what if the answer is right in front of you?

'For me, the newsletter is the most important tool I have in building a global denim brand. Second only to the sewing machine.'

So writes entrepreneur David Hieatt who has based his entire marketing strategy around a simple email newsletter. And it's worked. His company has grown into a creative global jeans business with a fiercely loyal community.

Now, David shares his insight, strategy and methodology so you can do the same. In Do Open you will discover:

Why giving is your secret to success
How to get people's attention when time is your biggest competitor
Why creating beats sharing
How a small team can win
Build community. Build your brand. Build long-term growth. Discover why the humble newsletter is pure and utter gold.
About the Author
---
David Hieatt is not a theorist. He has built brands from nothing, with next to nothing, just by understanding a few basic rules. The 'Scrapbook Chronicles' newsletter has become a cult offering from his company, the Hiut Denim Co. Its open rate exceeds almost any industry standard. It is one of those rare newsletters that people actually look forward to receiving. Hiut Denim Co regularly receive gifts through the post thanking them for sending it out. And it has delivered results. It has grown the company by 25 per cent each year for the last three years. And each year for the last three years, the company has turned a profit. David has spoken at Apple, Google and Red Bull, amongst others. In 2010 he self-published The Path of a Doer. In 2014 he published Do Purpose: Why brands with a purpose do better and matter more (Do Books).