Blackwood (Paperback)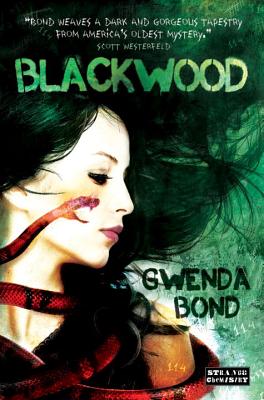 $9.99
This item is not currently available to order.
Other Books in Series
This is book number 1 in the Strange Chemistry series.
Description
---
On Roanoke Island, the legend of the 114 people who mysteriously vanished from the Lost Colony hundreds of years ago is just an outdoor drama for the tourists, a story people tell. But when the island faces the sudden disappearance of 114 people now, an unlikely pair of 17-year-olds may be the only hope of bringing them back.

Miranda, a misfit girl from the island's most infamous family, and Phillips, an exiled teen criminal who hears the voices of the dead, must dodge everyone from federal agents to long-dead alchemists as they work to uncover the secrets of the new Lost Colony. The one thing they can't dodge is each other.

Blackwood is a dark, witty coming of age story that combines America's oldest mystery with a thoroughly contemporary romance.
About the Author
---
Gwenda Bond is a contributing writer for "Publishers Weekly" and regularly reviews for "Locus." Her nonfiction work has also appeared in the "Washington Post," "Lightspeed," and "Strange Horizons," among others, and she guest-edited a special YA issue for "Subterranean Online." She holds an MFA in Writing from the Vermont College of Fine Arts' program in writing for children and young adults. Readers of "Lady Churchill's Rosebud Wristlet "may know her as everyone's Dear Aunt Gwenda.

She lives in a hundred-year-old house in Lexington, Kentucky, with her husband, author Christopher Rowe, and their menagerie: Hemingway the Cat, Polydactyl, LLC; Miss Emma the Dog-Girl, CPA; and Puck the Puppy, INC. This is her first novel.
Praise For…
---
"What delighted me about Blackwood was not only that it's about the Lost Colony, but also that it's a supernatural approach to the disappearance...A Favorite Book Read in 2012." - Lizzy Burns, SchoolLibraryJournal.com

"This haunting, romantic mystery intrigues, chills, and captivates."
-New York Times bestselling author Cynthia Leitich Smith
 
"With whip-smart, instantly likable characters and a gothic small-town setting, Bond weaves a dark and gorgeous tapestry from America's oldest mystery."
- Scott Westerfeld, New York Times bestselling author of the Leviathan series
 
"A deft and clever debut!  Bond takes some reliably great elements -- a family curse, the mark of Cain, the old and endlessly fascinating mystery of the Roanoke Colony -- and makes them into something delightfully, surprisingly new. How does she do that? I suspect witchcraft."
- Karen Joy Fowler, New York Times bestselling author of The Jane Austen Book Club
 
"Weird, wise and witty, Blackwood is great fun."
- Marcus Sedgwick (shortlisted on 4 occasions for the Carnegie Medal, shortlisted for the Guardian Children's Award and won the Booktrust Teen Award)
 
"Miranda Blackwood's battle against her own history is utterly modern -- and utterly marvelous. She's truly a heroine all readers can rally behind."
- Micol Ostow, author of family and So Punk Rock

"Blackwood is an excellent choice for anyone looking for paranormal YA, mystery, or just something a little bit different. Unlike a number of other recent YA titles, the romantic elements are fairly low-key. I think this makes Blackwood particularly boy-friendly, and also a good crossover title for adult readers."
- Jen Robinson's Book Page

"It's definitely a wistful sort of novel about being different and dealing with scary stuff like losing your family and falling in love, as much as it is about ancient evils and terrible curses and supernatural menaces. It's nice to see a gentler, more personal sort of coming-of-age-and-battling evil novel, although of course Blackwood does deliver the required showdown with the forces of evil with the fate of the world at stake."
- Charlie Jane Anders, io9.com

"This book was an excellent mystery, full of romance, ghosts, ancient curses, historical figures, betrayal, and so much more."
- Delaney (age 12), Sacramento Book Review

"There's quality writing here and Bond has some amazingly original idea. For fans of history, the supernatural, romance, pop culture references, and alternating POVs."
- Gillyb, Writer of Wrongs