Guide to the Bodhisattva's Way of Life: How to Enjoy a Life of Great Meaning and Altruism (Paperback)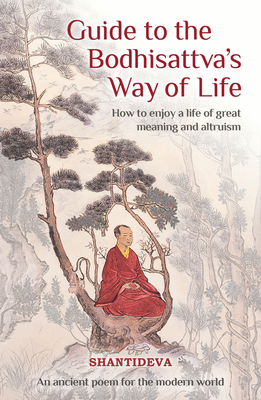 $14.95

Available in our Warehouse: Usually Ships in 3-8 Days
Description
---
An ancient poem for modern times
Transform ordinary self-centeredness into loving kindness and altruism
Transform ordinary confused views into profound wisdom
Become a friend of the world who, motivated by compassion, seeks enlightenment to benefit all living beings
This famous and universally loved poem for daily living has inspired generations of Buddhists and non-Buddhists since it was first composed in the 8th century by the great Buddhist Master, Shantideva. This new translation, made under the guidance of Venerable Geshe Kelsang Gyatso Rinpoche, conveys the great lucidity and poetic beauty of the original, while preserving its full impact and spiritual insight.
Reading the verses slowly, while contemplating their meaning, has a profoundly liberating effect on the mind. The poem invokes special positive states of mind, moving us from suffering and conflict to happiness and peace, and gradually introduces us to the entire path to attaining the supreme inner peace of enlightenment, the real meaning of our human life.
About the Author
---
Shantideva was a renowned Indian Buddhist master who composed the Buddhist classic Guide to the Bodhisattva's Way of Life (known in Sanskrit as Bodhisattvacharyavatara). A Bodhisattva is a friend of the world who, motivated by compassion, spontaneously seeks enlightenment to benefit all living beings. Venerable Geshe Kelsang Gyatso Rinpoche is a fully accomplished meditation Master and internationally renowned Teacher of Buddhism who has pioneered the introduction of modern Buddhism into contemporary society. Presenting Buddha's teachings in a way that is relevant and suitable for modern people with busy lives, he shows how these teachings can be used by anyone, Buddhist or non-Buddhist, to solve problems, improve relationships and eventually attain a deep and lasting inner peace and happiness.He has also created all the conditions necessary to support the study and practice of Buddhism in modern society: writing 23 highly acclaimed books that perfectly transmit the ancient wisdom of Buddha; establishing over 1,200 Kadampa Buddhist centers and groups throughout the world; developing modern study programs;training qualified Teachers; and establishing local, national and international courses, festivals and retreats. Through all these and other activities Venerable Geshe Kelsang Gyatso Rinpoche is giving new life to Buddhism, enabling people everywhere to discover inner peace and happiness through Buddha's teachings, thereby bringing greater peace to a troubled world.Gen-la Kelsang Thubten is a senior Teacher of Modern Buddhism who has been a disciple of Venerable Geshe Kelsang Gyatso for forty years and was the principal editor for many of his books. Having taught internationally for many years, Gen-la brings a wealth of practical and meditative experience to his teachings. He is renowned for his ability to present the many deep meanings contained within Venerable Geshe-la's books and to show how to integrate these meanings into daily life. Gen-la teaches the Special Teacher Training Program and the Foundation Program at Manjushri Kadampa Meditation Center in Ulverston, England.