Brexit Without the Bullshit: The Facts on Food, Jobs, Schools, and the NHS (Paperback)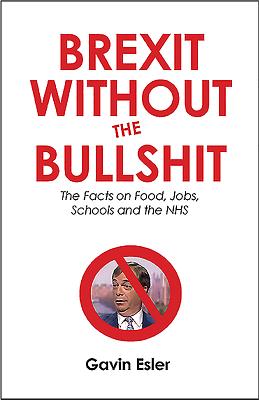 $18.20

Available in our Warehouse: Usually Ships in 3-8 Days
Description
---
The broadcaster and journalist Gavin Esler sets out how the most momentous change in Britain for decades changes everyday life. In 7 succinct chapters, he reveals the profound impact of leaving the European Union on:
Food and diet
Health and the NHS
Jobs and industry
Education
Travel to Europe
From the food markets of Kent to NHS operating theatres to the boardrooms of big employers, Brexit throws up many surprises.
Brexit Without the Bullshit
is not about the Brexit you were promised.
It's about the one arriving.
Reviews
Here's the really useful book: Brexit Without Bullshit by Gavin Esler. Everything a good Remainer needs to persuade the Brexiters, punchy, pithy and short.
- Polly Toynbee,
Guardian
columnist
If you want a pithy, sober, clear-headed summary of what Brexit is actually likely to look like, @gavinesler's new book is spot on. Such a welcome antidote to all the whipped up sentiment - calm, factual, rigorous.
- Dr Rachel Clarke, NHS doctor and campaigner
Esler lays out with stark clarity the effects a Brexit will have on every significant aspect of our lives. In an ideal world every citizen would read this essential book, and think hard. This is the clearest, most uncompromising and most valuable statement of the facts available; and it could save us from a disastrous mistake. - Professor AC Grayling, academic