Nightmare on One-Sheet: The Art of Graham Humphreys (Hardcover)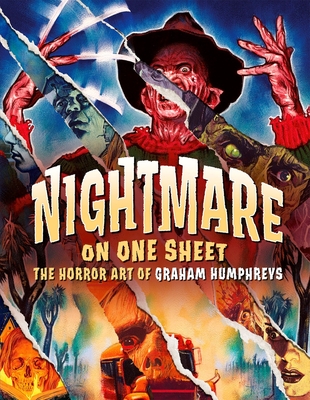 $45.00

Coming Soon - Available for Pre-Order Now
Description
---
Following on from Hung, Drawn and Executed, this second volume showcasing the work of Graham Humphreys contains almost 100 new paintings, many of them created during the pandemic.

With home entertainment playing such a crucial role during the Covid years, Graham found himself busier than ever and with increased focus. From Blu-ray reissues to soundtrack LP covers, and book jackets to private commissions, this new work is among the artist's best yet. Classic horror, independent films, and reimaginings of cult movie posters, it's all here!

All the work featured was painted in the traditional medium of gouache on watercolor paper, using techniques that Graham has refined over his 42 years as a professional illustrator. The book's title is a nod to the marketing of the famous movie franchise in which Graham was involved.
About the Author
---
Graham Humphreys is a British illustrator and film poster artist. Among his best-known works are the UK theatrical posters for The Evil Dead and Nightmare on Elm Street and their various sequels. Instantly recognizable, Graham's output has expanded vastly since those early successes, and he remains busier today than ever before, with clients on both sides of the Atlantic. His current work includes LP soundtrack covers, book covers, film posters, Bluray sleeves, and privately commissioned re-imaginings of posters for classic fan favorites.

Rob Zombie has directed several horror films, including House of 1000 Corpses, The Devil's Rejects and the 2007 reboot of Halloween. In addition, he has had a successful solo career as a singer and is the longtime frontman for industrial heavy metal superstars White Zombie.
Praise For…
---
"Graham immediately understood the essence of our film and painted an image that ripped up the traditions and threw the movie right in your face. I loved this poster!" —Sam Raimi, director, producer, screenwriter, actor
 "Graham Humphreys' art is at once beautiful and transformative." —Clive Barker, screenwriter and novelist
 "I've long been an admirer of Graham's wonderful artwork. For me, there's nothing that quite says HORROR like the queasy, lurid phantasms he conjures up with such wit, skill and imagination. I think I found the Evil Dead poster scarier than the film!" —Mark Gatiss, actor, screenwriter and novelist
 "How do I love Graham Humphreys's artistry? Let me count the ways. The genre of horror, because of its examination of things dark and strange, demands a certain theatricality in approach. And capturing the spirit and tone of a horror film in a single image such as a poster or DVD cover is especially challenging. Time and again Graham's masterful art work meets and exceeds that challenge. His illustrations are consistently vivid, energetic and always convey an uncanny sense of motion and emotion. Graham Humphreys is at the pinnacle of his craft and I am so honored to have been the subject of a number of his." —Jeffrey Combs, author, Re-Animator
 "One hundred seventy-six pages of iconic movie posters, illustrations and paintings . . . every work here deserves close inspection, and any fans of classic horror and sci-fi art will find loads to love. It's also great to see a contemporary artist resisting digital image creation and using the traditional medium of gouache to paint his images."  –This is Cool on Hung, Drawn and Executed: The Art of Graham Humphreys
 "Not only does this book showcase Graham's amazing body of work, it includes a step-by-step breakdown of his painting process, which makes it invaluable to any budding artist." —Wolfbait on Hung, Drawn and Executed: The Art of Graham Humphreys
 "With his distinctive but always innovative style, Humphreys could quite comfortably be termed the British Drew Struzan. This is a beautifully-presented testament to his art and is an essential purchase for any genre fan." —Starburst on Hung, Drawn and Executed: The Art of Graham Humphreys
 "Hung, Drawn and Executed is a fascinating and delightful peek behind the curtain of all too often woefully ignored facet of one of the world's most beloved genres." — Mass Movement on Hung, Drawn and Executed: The Art of Graham Humphreys
 "For over forty years Graham Humphreys has been a fixture on the UK horror scene as an artist and designer. Hung, Drawn, and Executed is a wonderful introduction to Humphreys' signature colourful style that is both instantly recognizable and utterly stunning." —Screen Anarchy on Hung, Drawn and Executed: The Art of Graham Humphreys