Extraction to Extinction: Rethinking Our Relationship with Earth's Natural Resources (Paperback)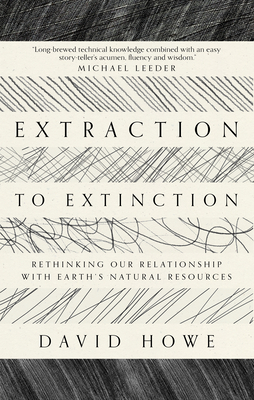 $17.95

Available in our Warehouse: Usually Ships in 3-8 Days
Description
---
Tracing our environmental impact through time, David Howe demonstrates how humanity's exploitation of Earth's natural resources has pushed our planet to its limit and asks: What's next for our depleted planet?

Everything we use started life in the earth, as a rock or a mineral vein, a layer of an ancient seabed, or perhaps the remains of a 400-million-year-old volcano. Humanity's ability to fashion nature to its own ends is by no means a new phenomenon--we have been inventing new ways to help ourselves to its bounty for tens of thousands of years. But today, we mine, quarry, pump, cut, blast, and crush Earth's resources at an unprecedented rate. We have become a dominant, even dangerous, force on the planet.
In Extraction to Extinction, David Howe traces our impact through time to unearth how our obsession with endlessly producing and throwing away more and more stuff could destroy our planet. But is there still time to turn it around?
About the Author
---
David Howe OBE is a multidisciplinary academic with a distinguished career that includes a professorship at the world-renowned University of East Anglia and a string of international keynote lectures delivered at universities and government organizations from Sydney, Adelaide, Auckland, and Hong Kong to Bucharest, Oslo, Barcelona, and Dublin. His academic qualifications cover both Earth sciences and social sciences; he taught biology and geology at high-school level before entering further academic research and university teaching. He has written many peer-reviewed academic books, chapters and journal papers on psychology, relationships, and social work, as well as writing on geology, popular science, and popular culture.