Music Production, 2020 Edition: The Advanced Guide On How to Produce for Music Producers (Hardcover)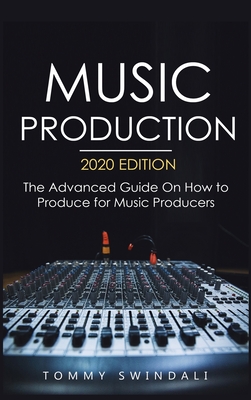 $29.99

Available in our Warehouse: Usually Ships in 3-8 Days
Description
---
Take Your Music Productions To The Next Level & Make Timeless Music
Want to take your Music Productions to the next level?
If you feel like you're always getting stuck in your music productions, or if you feel like you're not improving, then don't worry because you're not alone.
According to Digital Music News just 1.4% of producers actually "make it" in producing music...which means almost 99% of producers are focusing on the wrong things...And this is why most of them end up giving up producing before they peak or they never finishing anything good.
But if you had access to a wealth of proven technical, practical and theoretical knowledge in one book then you could take your music to the next level.
These inside secrets can be applied to real-world scenarios - whether it's in audio production, electronic music production, mixing, editing, mastering or sound for media. They also work for teachers and schools, colleges and universities.
This book will teach you all of that and empower your productions into masterpieces.
In this book you will discover:
Everything you need to know about advanced audio, recording and music production in 2020 and beyond
How a 19-year-old young producer used "deliberate practice" to create the global smash "Old Town Road"
Building a Professional Recording Studio (without spending millions)
How to acoustically treat a room - Pro Studio hacks revealed
What music gear do you actually need?
The truth about pursuing a career in music
What Music will dominate 2020 & the next decade?
How to optimize your computer for Music Production (PC and MAC)
Audio recording tips: Microphones & Placement
Design any basic or complex sound from scratch
Mixing & Mastering Explained - Elite Level
And much, much more...
This book covers just about everything Music Production related, giving you the advanced skills required by today's global music industry. And if you take the time to apply the knowledge inside then your music will elevate to a whole new level
Get started now with This Book.