Celery Juice Recipes That Don't Taste Gross: 47 Healthy and Balanced Celery Juice Recipes for Beauty, Weight Loss and Energy (Hardcover)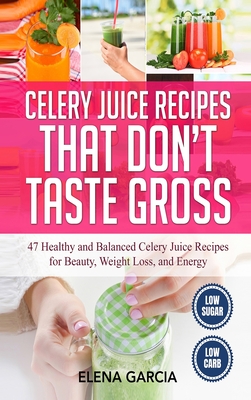 $20.79

Available in our Warehouse: Usually Ships in 3-8 Days
Description
---
The NO HYPE Approach to Celery Juicing to HELP You THRIVE
Yes, celery juice can be good for us, we have all heard it before...
But...it can also be very harmful when overdone...
And pure celery juice doesn't taste very nice.
It doesn't sound very reasonable to live on pure celery juice alone or experiment with unproven and unrealistic celery juice cleanses pushed by celebrities and hype gurus....
However, if done right, celery and celery juice can really help you take your health to the next level...
This is why this book takes a different approach than most strict celery cleanses books out there...
It shows you how to incorporate celery into healthy and balanced, super low sugar and low carb juicing recipes to help you create optimal health...
Without crazy cleanses...
Without forcing yourself to drink juices that make you sick...
Instead, you can enjoy all the benefits of celery in delicious, tasty and beautiful juices...
Celery Juice Recipes That Don't Taste Gross are:
-low sugar and low carb (compatible with weight loss and low sugar diets)
-combine the healthiest low sugar fruits, veggies, superfoods, and herbs to help you create BALANCE
-taste delicious
This book is perfect if you want to:
-enjoy more energy, naturally
-give your body the nutrients it needs to stimulate healing
-speed up massive weight loss, naturally
-improve your health with easy-to-follow recipes
-have healthy-looking, glowing skin, and beautiful hair
Ready for Celery Juice Recipes That Don't Taste Gross?
Order your copy now and join thousands of others who are already using this new way of juicing to LOOK and FEEL amazing