Crochet (Paperback)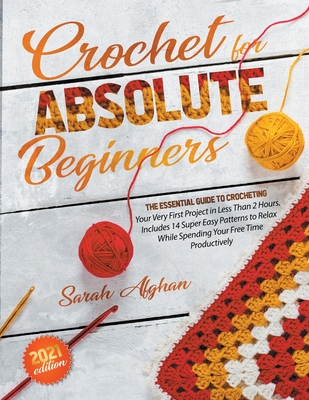 Email us for price & availability: info@oblongbooks.com
Special Order - Subject to Availability
Description
---
*** Get Your Copies TODAY for $10.79 instead of $23.97 55% OFF - Limited Offer *** *** Would you like to start a new hobby that allows you to be productive while still enjoying a relaxing night at home? ***
Then I'm sure you will love crocheting
Many people tend to think that crochet is a really complex hobby, that takes a lot of time to learn and perfect, but the reality is that if you have the right instructions and advice you can start crafting awesome creations even if you never had any experience before.
This easy step-by-step guide is specially written to make you able to crochet your first piece in less than 2 hours even if you've never held a crochet hook in your hand before.
By reading this book, you will learn:
- What are all the Supplies and Tools you will need, to have everything set up and ready to start creating your first project
- How to properly read a Pattern, so you can always be sure that you are following the right directions to avoid starting over
- Everything you need to know about the most used Stitches and Patterns, so you can easily have the ability and knowledge to start creating any kind of project you can think of
- How to Avoid the 10 Most Common Mistakes that beginners often do, so you will not waste your time or redo a project from zero due to these simply avoidable errors
- 14 Easy Projects Illustrated Step-by-Step to start making practice straightaway while watching your favorite Tv series or listening to podcast
- ...& Much More
Having an item that you created with your bare hands is something that can make you feel proud of yourself and accomplished, and thanks to this guide it has never been simpler
Whether you are crafting something for yourself, or as a gift for a loved one, crochet is surely a good way to bring out your creative side and to build your confidence and pride while doing a relaxing and fun activity, and this book can guide you on how to do it easily, so...
...What are you waiting for?
** Take advantage of this deal and let your customers fall in LOVE with this book **