Wicca for Beginners: A Starter Guide to Witchcraft Religion. How to Become a Wiccan and Understand the Secret of Magic, Spells, Rituals and (Hardcover)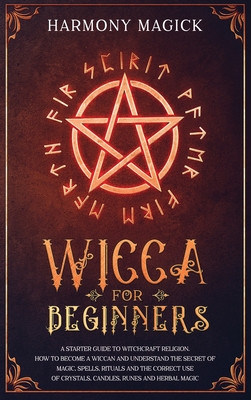 $27.95

Available in our Warehouse: Usually Ships in 3-8 Days
Description
---
If You Want to Become a True Wiccan, Discover All the Secrets Behind this Religion and Start Your Own Magical Journey, Then Keep Reading...
The interest in Wicca has increased over the past few decades. Everyone wanted to know how to bring real magic to life and how to take charge of the destiny instead of being subject to the whims of the world. In fact, Witchcraft teaches how to establish a perfect relation with nature and unleash the great power of our ancestors.
Have you ever been curious about what spells are or how to use magic?
The Wicca path is full of experiences and magic practices related to the elements and nature. Above all the phases of the moon and the days of the week and how they can influence your life and success. But also, the secrets of the Universe and how to receive messages from the spirit realm.
All these things are possible if you follow the correct instructions. This guide will help you get started with all the tools, knowledge, and techniques you will need in order to learn and practice the magical arts.
This book will teach you everything you need to know on the path of the Wiccan religion with all the knowledge that the ancient world has to offer. Learn about what Wicca is, how to implement magical practices into your daily life, and find your connection with the natural world and the secrets of ancient knowledge.
You will learn:
The history of Wicca and the foundations of this religion
Descriptions of the tools and items you will need to practice magic
The secrets locked within herbs and spells
How to harness the power of crystals
How to access the knowledge of the spirit work by using the proper tools
A path to lead you from novice to adept of the magical arts and how to initiate yourself into the Wiccan religion
Practices, beliefs and calendars explained
A starter Grimoire for spells, recipes, and more to get started with magic
And much more
This book provides a guide for accessing your personal magical powers and tapping into your inner potential to take your life into your own hands. If you want to lead a magical life full of love, hope, abundance, and prosperity, this book is where you need to start
Even if you are a complete beginner and are not sure what Wicca is or what it stands for, you can quickly and easily learn its secrets and how to incorporate magical knowledge and energy into your own life to get in touch with the magic of the natural world and find a sense of fulfillment, satisfaction, and inner harmony.
With this simple, ready-to-use guide, you can transform your life from being mundane and ordinary into something extraordinary and filled with the wonder and knowledge of the Universe
Start your journey and find out how to pursue the magical arts of the Wiccan religion
Get this book today, Scroll up and
Click the Buy Now Button