At the Edge of Mysteries: The Discovery of the Immune System (Paperback)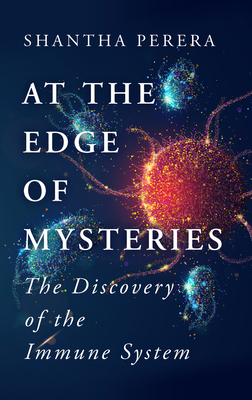 $17.95

Coming Soon - Available for Pre-Order Now
Description
---
THE JOURNEY OF THE PIONEERS OF IMMUNOLOGY FROM SMALLPOX TO COVID-19
In December 2019 a new virus emerged, one that caused a global pandemic. Millions were infected. In the recesses of their fragile bodies a battle raged: between the immune system and the virus. But what is the immune system? What are its components? How do they work?
One way to understand this system, arguably the most complicated in human physiology, is by walking in the footsteps of history, one observation and experiment at a time – beginning with the first written record of the concept of immunity in 430 BCE and traveling through the ensuing centuries, which gave the world vaccines, organ transplantation, novel therapies for cancer and now the understanding and tools to tackle the pandemic virus.
An entertaining and accessible work of popular science, At the Edge of Mysteries introduces the reader to a compelling cast of characters, from Edward Jenner and Louis Pasteur to the Nobel laureates of the modern day. This book glimpses into their lives and times – seeking clues to their genius and celebrating their yearning for discovery – and asks the question of what can be learned from the past in the age of global pandemics.
'A unique historical perspective on how the field of immunology developed, told in short stories that will both educate and entertain and which can be read and understood by all. A captivating read' Paul Murray, Professor of Molecular Pathology, Institute of Immunology and Immunotherapy, University of Birmingham
'This book should be in every university library' Neville Punchard, Professor Emeritus in Molecular Biosciences, University of East London
About the Author
---
Shantha Perera is a Senior Lecturer in Immunology at the School of Medicine, University of Wolverhampton, U.K. He has taught immunology to undergraduate and postgraduate students for over twenty-five years and is the principal author of Integrated Medical Sciences: The Essentials. John Wiley 2007.