Positive Thinking Activity Book For Kids: Fun, thought-provoking workbook with affirmations, to help your child think positively and become more resil (Paperback)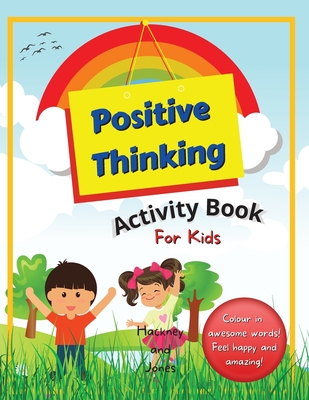 $18.89

Available in our Warehouse: Usually Ships in 3-8 Days
Description
---
Do you worry about your child's mental health?Are you concerned about how your little one views him/herself?Do you wish you could enhance their self-esteem but don't want to always rely on a screen for hours on end?
Whether or not your child is shy and quiet, ALL children should feel safe, feel good about themselves and be happy. We are sure you agree on this, right?
But it's easier said than done, isn't it?
They may be struggling with anxiety, low mood or are generally unsure about the world around them and where they fit in it. You want them to be confident and full of positivity, but how do you do this in such a busy world?
Our empowering book - Positive Thinking Activity Book For Kids is a fun, thought-provoking workbook with affirmations to help your child think positively, WITHOUT staring at a screen. It is perfect for boys and girls aged 4+ years.
It helps them believe what is already there through positive messages on each page.
✓ THEY WILL LEARN VITAL LIFE SKILLS - their new-found confidence and self-love will enable your child to take on more challenges and live a more fruitful life.
✓ FUN, FUN, FUN - Who says learning about being mindful isn't fun? There is plenty to keep them interested here.
✓ TOUGH BUT GENTLE - We help your child learn about mental toughness, feelings and mindfulness, but in a subtle, encouraging way through creativity and colour.
✓ DO IT DAILY AND IT WORKS - Make our Positive Thinking Activity Book For Kids part of their daily routine and you will notice the difference in your child. They will get used to talking to you about their feelings and start believing in themselves. This new habit will have a lasting impact for years to come.
✓ PERFECT GIFT - Our Positive Thinking Activity Book For Kids is a first choice present for your kids or somebody else's. (It's a book you wished YOU'D had when you were young) Enjoy the feeling of knowing you have played such an important role in your child's self-development. Their shining confidence will be magical, and unforgettable.
✓ SIMPLY A GUIDE TO HAPPINESS - We strongly believe that the more your kids prioritise their mental health, the happier they will be.
Imagine in years to come when they are confident, flourishing, and taking on the world - YOU helped do that. (You can even put it to put in a memory box - a valuable keepsake for you).
As a self-aware parent/carer, if you want to help them overcome life's obstacles, buy our awesome Positive Thinking Activity Book For Kids TODAY