Native American Herbalist's Bible - 10 Books in 1: Create your Green Paradise of Medicinal Plants and Herbal Remedies to Unleash Your Vitality (Paperback)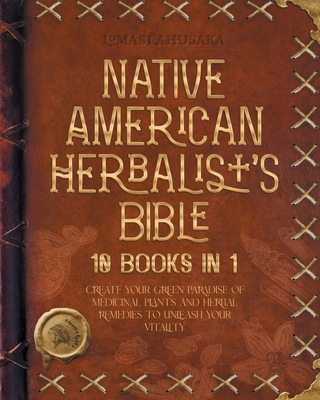 $29.99

Available in our Warehouse: Usually Ships in 3-8 Days
Description
---
⭐ ILLUSTRATIONS OF EACH PLANT, FLOWER, AND SPICE WITH HANDMADE STYLE DRAWINGS
Are the harsh
artificial medicines
addictive to your body and taking away your
vitality
?
Are you looking for a
natural and inexpensive
solution?
Would you like to learn
evergreen knowledge
that allowed Native Americans to heal themselves without the need for
Big Pharma
?
If you answered "
Yes
" to any of these questions, then
this is the Bible for you
You're about to open the door of knowledge to all the secrets that Native Americans have passed down from father to son to stay healthy through balance with nature. I imagine that you are confused by the thousands of pieces of information that pharmaceutical advertisements propose to us every day. You've been Googling the world of alternative medicine, and terms like Ayurvedic medicine and Homeopathic medicine are still misunderstood.
Don't worry, I've met thousands of people like you, and I've written this guide to create easy and practical methods within everyone's reach.
You'll be surprised to discover that you don't need complex knowledge or years of study to understand this old but gold lifestyle.
In this book, containing the knowledge of my thirty years of experience in herbalism, you will find:
BASIC OF HERBALISM AND HERBAL PREPARATION: You'll learn how to grow plants and spices for your health, use your garden or pots at home or where to buy them, and choose the best ones,
SAFE USAGE OF THE HARVEST HERBS: herbs, spices and oils have enormous power, but you have to know how to use them carefully. I will guide you in accurate dosing to maximize the beneficial effect while avoiding side effects,
HERBS COMPENDIUM: You will smell over 200 natural gems and all parts are divided with quantities suitable for children and adults.
GLOSSARY ILLNESS: You will find a detailed list of the most frequent illnesses, finding one or more solutions for each of them.
What you're about to read comes from testing, research, errors, and thousands of hours of my studies and career gathering only the best available information on this topic.
All you have to do is click the "
Buy Now
" button and live this
Natural Immersive Experience
⭐ BONUS: HERBAL REMEDIES ONLINE COURSE INCLUDED