Befriend Gravity: The Commonsense Approach to Rebuild Your Happy Spine (Paperback)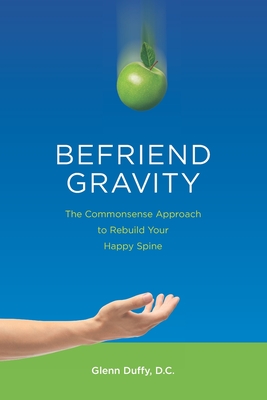 $26.44

Available in our Warehouse: Usually Ships in 3-8 Days
Description
---
Does your spine feel as young as you want it to? Do you wake with energy, flexibility, a clear mind, and a good mood? Are headaches, neck, or back pains, holding you back from enjoying life 100%?
Our society has normalised chronic stiffness, aches, and pains, and called it all "ageing". But it is not OK to feel stiff and weak, to move like an "old person" every morning. It is not normal to feel irritable or intolerant. There is a way to keep your spine strong and young, and to age gracefully, energetically, flexibly... choosing life on your terms. Drugs and surgery are not the answer to poor spinal health. No drug or surgery can ever add health to your spine.
Duffy describes a commonsense way to restore health and rebuild your happy spine. Headaches, neck pain, insomnia, dizziness, shoulder pains, anxiety, and depression, can all be side effects of an unhealthy neck. Restricted breathing, loss of memory, and acid reflux are among the illnesses related to poor midback health. And herniated discs, sciatica, hip pain, and circulatory problems are
associated with lost lower back health. Drawing on decades of experience, and the latest scientific research, Duffy explains how you can rebuild a healthy spine, from the inside out. Take the weight off your shoulders, and learn how your spine can help you to feel young and flexible, for life.
- Learn how to stop back and neck pains from ruining your future
- Commonsense explanation of how to build your healthy spine
- Real-world success stories and life-changing cases
- Self-assessment tools to measure your own spine at home
- Tips for changing your posture and spinal health
- Clear action points for you to take control
Dr Glenn has spent two decades working with clients and managing teams of Doctors and Physiotherapists, dedicated to changing lives by rebuilding happy spines, for life. Sportsman, outdoor enthusiast, and family man, Duffy runs a thriving chiropractic practice in Marbella, Costa del Sol, Spain.
Learn more about Glenn at www.glennduffy.com
Find out how to work with Glenn at his practice in Marbella, Spain at www.duffyquiropractica.com