Transform Your Teaching with Universal Design for Learning: Six Steps to Jumpstart Your Practice (Paperback)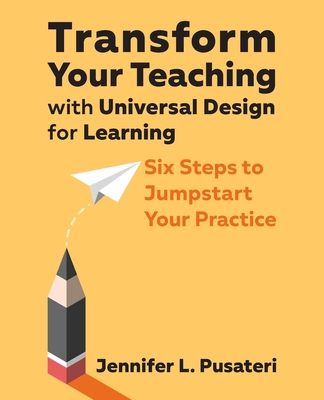 $32.20

Available in our Warehouse: Usually Ships in 3-8 Days
Description
---
Whether you're already familiar with UDL but haven't had the time to think through implementation strategies or are brand new to UDL, Transform Your Teaching with Universal Design for Learning: Six Steps to Jumpstart Your Practice by Jennifer L. Pusateri will enrich your practice and help you reach more learners.
Pusateri, who first discovered UDL as an art and humanities teacher at a school for students with learning disabilities, writes:
"I saw the brilliance in my students emerge because I was proactively anticipating and removing learning barriers before they even became a problem. I wouldn't know it until several years later but teaching at that school was my 'accidental' introduction to Universal Design for Learning (UDL)."
In this lively book, Pusateri addresses a common stumbling block for educators curious about UDL - how to get started. She describes ways to make a necessary shift in mindset and connects that to practical, UDL-aligned strategies.
Full of helpful exercises and resources, this guide will enable every teacher to proactively plan for classrooms (like yours) that are filled with diverse learners.