Ramayana : A Tale of Gods and Demons (Paperback)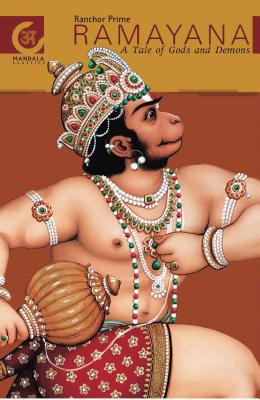 $12.95

Available in our Warehouse: Usually Ships in 3-8 Days
Description
---
From the kingdom of Ayodhya to the isle of Lanka, we are transported to a land that has inspired morality and spiritual tradition for thousands of years. On the eve if his enthronement, Rama, the beloved prince of Ayodhya, is banished to the forest as a result of a sinister plot. Along with his wife Sita and brother Lakshmana, Rama accepts his destiny and departs as the kingdom mourns his loss. His exile, however, proves to have a deeper meaning as Rama becomes the protector of the forest sages and sparks the fury of Ravana, the seemingly invincible demon who terrorizes both humans and gods alike. In a vengeful act, Ravana kidnaps Sita, taking her across the ocean to Lanka. Now Rama, with the help of an army of monkeys, must fight to reclaim his dear bride and his honor.
About the Author
---
Ranchor Prime is the author of several books on the culture and spirituality of India, speaking to Hindu environmental issues as a Hindu religious scholar. He is an advisor on religion and conservation to the Alliance of Religions and Conservation, and he is co-founder and director of Friends of Vrindavan, an environmental charity aimed at protecting sacred forests in India. He lives in London.

B.G. Sharma is a recipient of the prestigious National Art Award bestowed by the president of India. He is internationally recognized for his mastery of the traditional styles of Kangra, Kishangarh, and Mughal, as well as for pioneering his own painting style. Sharma has been commissioned to create portraits of heads of state, such as Prime Minister Indira Ghandi and Her Majesty Queen Elizabeth II. He is the recipient of the Independent Publisher's Award for Prince of Dharma (Mandala, 2003) and a two-time finalist for the Benjamin Franklin Award (2002 and 2003). He lives in Udaipur, Rajasthan, India.