Tanto Tanto (Paperback)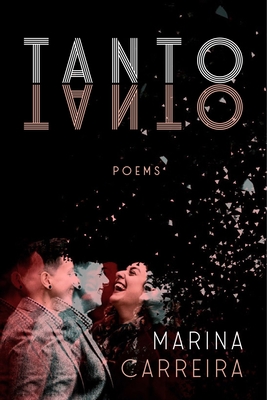 Description
---
A critical look at female queerness through the lens of first-generation culture.
 
In Tanto Tanto, a queer daughter of immigrants highlights the struggles she faces in romantic relationships amidst a culture of oppressive, culturally sanctioned heteronormativity. Exploring the consequences of queer love in both contemporary American and Luso-American societies, Tanto Tanto unsettles ideas about the privileged queer body, romantic love, queer motherhood, femininity, gender identity, sex, and more. This collection makes visible and troubling what is often overlooked, misunderstood, and romanticized in "American" homosexuality.
About the Author
---
Marina Carreira (she/her/hers) is a queer Luso-American writer and multimedia artist from Newark, New Jersey. She is the author of Save the Bathwater and I Sing to That Bird Knowing It Won't Sing Back.
Praise For…
---
"Tanto Tanto is a rich, complex, and breathtaking tapestry of desire, longing, pleasure, sorrow, and, above all, love. The collection creates a fractal love letter centering on the relationship between the speaker and her wife, but also encompassing the love for their children, the self, poetry, and the body (with the latter as a sight of joy, pleasure, resilience, and spirit). With a voice that is marvelously both tender and vigorous, Carreira moves us to experience love in tuna sandwiches, the divine in the every day, and terror in driving home from the grocery store. Tanto Tanto celebrates the speaker's love while also masterfully navigating the gifts and cruelties of inheritance growing up in a heteronormative working-class immigrant family, and the fear and violence of life as an immigrant LGBTQ woman in America. Tanto Tanto is gorgeous, sensual, intersectional, intimate and large, honest and real. I was enthralled and moved by this collection."
— Ananda Lima, author of 'Tropicalia' and 'Mother/Land'

"Marina Carriera's Tanto Tanto is an ode to love that is 'kindling to kerosene' yet from that fire it somehow invokes the creation of bridges between lands, families and bodies, silences and howls. This is a queer love that is rooted in an immigrant voice, one that both questions and desires the myth of the picket fence and the warmth of the quotidian. Be prepared for the lushness of the ocean and cephalopods and pussies that do house chores and write horror, all in homage of an 'aquatic hallelujah' that sings the siren song of adoration. I am in awe of this complex, scary, funny portrait of intimacy because it is truthful, brave, original, as all love should be."
— Grisel Y. Acosta, author of 'Things to Pack on the Way to Everywhere'

"In Tanto Tanto, Marina Carreira offers holy songs of queer devotion. This Luso-American daughter of immigrants writes 'a dialect of resistance' in which Portuguese queers English as naturally as 'the way andorinhas muscle-memory between Lisbon and Porto.' Here, holy water swells like the tides in moonlight to baptize beloveds: 'I lay wet in my longing for the surge. . . the ocean I swallow whole.' What lush odes to the body, to immigrant resilience and queer survival, and to the poet's 'most handsome tulip' beloved with 'tremendous tongue': 'There are so many ways I can learn // to take my coffee if you make it,' Carreira writes. This is a poet of so much dimension, so much rapture, who has uncovered the divine in nature ('marigolds and magnolias nippling the breasts of unseen gods') and herself and has no time for 'those who can't see such fucking divinity.' I can't wait to teach this book."
— Darla Himeles, author of 'Cleave'

"Tanto Tanto invites the reader into the life of its speaker with both beautiful and blistering images of an America where you are free to live as you please but never free from judgement. . . . Tanto Tanto is full of richly detailed personal stories that woo the reader into caring deeply for the speaker of these poems. The emotion is so real and honest, one cannot help but relate to these never dramatic, genuine-in-every-way stories."
— Christine Salvatore

"Tanto Tanto is full of richly detailed personal stories that woo the reader into caring deeply for the speaker of these poems. The emotion is so real and honest, one cannot help but relate to these never dramatic, genuine-in-every-way stories."
— Mom Egg Review