I Can't Believe You Said That! Activity Guide for Teachers: Classroom Ideas for Teaching Students to Use Their Social Filters Volume 7 (Best Me I Can Be) (Paperback)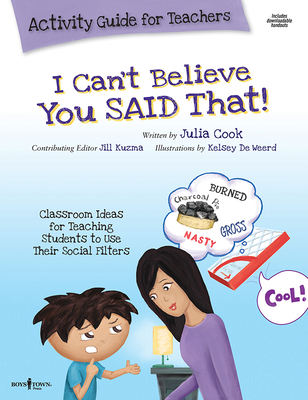 $19.95

Available in our Warehouse: Usually Ships in 3-8 Days
Description
---
Just because you think it, doesn't mean you say it.
Children and adults alike struggle with the challenge of using their social filter. It's confusing for children to understand why we tell them to be honest or to speak up in one setting, then tell them to keep their thoughts to themselves in another.
These children need to learn skills of How to Analyze Social Situations and How to Choose Appropriate Words to Say. More and more, educators are being asked to help teach and reinforce these social skills in their work with students.
More than 20 activities designed to help students visualize what a social filter is, and then practice using their social filters in a safe setting are provided. These activities can be used with the storybook I Can't Believe You SAID That from the BEST ME I Can Be series.
Each activity includes:
Instructions for each activity
List of materials when needed
Activity Sheets
Homework ideas
Digital forms, worksheets, and colorful reward coupons are available to download.
Elementary educators will be able to pick up this book and quickly use the activities with their K through 6 students. Use the creative ideas in this guide to encourage your students to think about what they are going to say, BEFORE speaking.
About the Author
---
Julia Cook, a former school counselor and teacher, has written many books on behavior and health for children. She has received the Association for Educational Publishers Distinguished Achievement Award, and her books have been honored by the National Parenting Center and Mom's Choice Awards. Her storybooks show children how to make a positive difference in their lives by teaching them lifelong problem-solving skills. Her Best Me I Can Be series of children's books teaches essential social skills, such as Using Your Social Filter. Julia's ultimate goal is to make a positive difference in the lives of children, parents, and educators by teaching lifelong problem-solving skills to kids.