Drawing on the Air: The Kinetic Sculpture of Tim Prentice (Hardcover)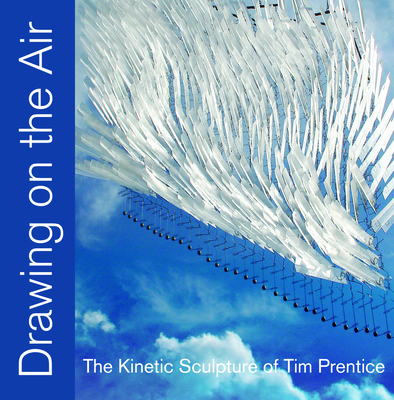 $27.50
This item is not currently available to order.
Description
---
In the New York Times Michael Kimmelman called them sleek, whimsical contraptions in a modernist mode; the Basler Zeitung termed them net-like structures . . . like hedgehogs or serpents. The kinetic sculptures of Tim Prentice create a novel geometry of air and light. Concentrating on movement rather than object, Prentice harnesses natural elements into his art machines-delicate structures that walk the tightrope between order and chaos, control and serendipity, understated technique and extravagant wonder. Prentice purposely circumscribes the artist's prerogatives, distilling the power of wind and sun into an ever-changing dance of light and shadow. These understated, subtle inventions provide endless distraction, delighting the child in all of us. Drawing on Air offers a many-sided vision of the kinetic sculptor and his works. An essay by Nicholas Fox Weber introduces the artist and his work, while a chapter on Mechanics explains some of the physical principles underlying Prentice's whimsical sculptures. Photographs of works-in-progress, principal public commissions as well as occasional pieces created for casual amusement are punctuated by the artist's mordant, sometimes mischievous comments. Prentice's sculptures . . .are about fluid movement and change, reminding us that everything is in flux. . . . Wonders of engineering, they create evanescent drawings in thin air. -Michael Amy, Art in America What is grand in these sculptures is the sense of immensity created by their movements, a sense resonant with our most pleasurable apprehensions of land, sea, and sky. -Elaine Bleakney, Sculpture These refined sculptures are never ponderous, plump or boring but constantly and slowly transforming themselves as though imbued by perpetuum mobile. -Karen Gerig, Basler Zeitung Experiencing Tim Prentice's work is like taking a ride on a roller coaster -Catalog of the Connecticut Biennial
About the Author
---
Tim Prentice received a Masters Degree in architecture from Yale in 1960 and founded an award-winning firm with Lo-Yi Chan in 1965. Ten years later, he established a studio in Cornwall, Connecticut to design and fabricate kinetic sculpture. This work grows out of the tradition of the Russian Constructivists, Alexander Calder and George Rickey, but has a "'gently assertive character . . . very much his own" (Grace Glueck). The sculptures can be seen in public spaces and corporate headquarters in locations throughout the United States as well as in Taiwan, Japan, Korea, Hong Kong, Switzerland and Australia. His work is also in over 150 private collections. He has been represented by the Maxwell Davidson Gallery in New York since 1990.
Praise For…
---
"Drawing on the Air introduces the reader to Prentice's joyful and reflective sculptures that react to every movement of the air.... [It]is a visual treat and a revealing insight into the mind and work of this unique artist..... Designers, artists, students and anyone who loves art will delight in this book." - Antiques and the Arts Weekly, June 2012


Prentice's sculptures . . .are about fluid movement and change, reminding us that everything is in flux. . . . Wonders of engineering, they create evanescent drawings in thin air." Michael Amy, Art in America


What is grand in these sculptures is the sense of immensity created by their movements, a sense resonant with our most pleasurable apprehensions of land, sea, and sky." Elaine Bleakney, Sculpture


These refined sculptures are never ponderous, plump or boring but constantly and slowly transforming themselves as though imbued by perpetuum mobile." Karen Gerig, Basler Zeitung


Experiencing Tim Prentice's work is like taking a ride on a roller coaster"
Catalog of the Connecticut Biennial