Mobile Suit Gundam: THE ORIGIN 1: Activation (Gundam Wing #1) (Hardcover)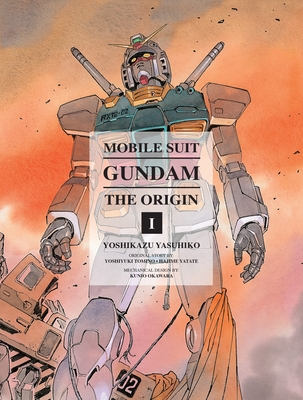 $29.95

Available in our Warehouse: Usually Ships in 3-8 Days
Other Books in Series
This is book number 1 in the Gundam Wing series.
Description
---
It is the year Universal Century 0079, in a space colony the Earth Federation is storing and testing a new piloted robot for use in the battle against the Principality of Zeon. The experimental RX-78 Gundam mobile suit is scheduled to be transported to Federation command in Jaburo, deep within the Brazilian jungles. Unfortunatley, before the transporter would arrive, the Federation would come under attack from Zeon. With few resources available against the Zeon's most mobile mechs, Federation forces strike back using their new weapon, the mobile suit Gundam.
Caught in the crossfire is a young teen named Amuro Ray. Not willing to see innocent people die like this, Amuro crawls into the cockpit of the closest machine around him. Whether it be a tank, jeep or jet, he was going to use it to help stop this slaughter. And what he happened to slide into was another Gundam. Having never operated a machine like this, what are the chances he can do anything to repel an experienced squad of mech-piloting invaders?
Volume 1 includes:
an essay from Hideaki Anno, director of the hit anime Neon Genesis Evengelion
Color pages from Yas
And an essay from Kadokawa Publishing Executive Shinichiro Inoue
About the Author
---
Hokkaido native Yoshikazu Yasuhiko (1947-) is a Japanese animator and manga artist. His career as a character designer has spanned over four decades, creating famed characters for such anime as Super Atragon, Brace Raideen, and the widely known Mobile Suit Gundam. Considered a pivotal player in mecha and sci-fi anime, Yasuhiko's characters, stories and illustrations are unmistakable in their style and serve as timeless examples as pioneers of manga and animation in Japan.

Yasuhiko began his career as an animator in Osama Tezuka's Mushi Productions, and later on decided to go freelance to work for a number of animation productions for both film and television. In the late 70's, Yasuhiko would turn his attention to the world of comics, as he has since penned nearly two dozen titles since.

In 1981 he was awarded the Nebula Award by the Japanese Sci-Fi Association.
In 1990 his work Namuji won the Japan Comic Artist Association Grand Prize
And in 2000 he took the Japan Media Arts Award for Best Comic with his title A Revolutionary Dog.
Praise For…
---
"It's a good book. Very good, actually. Very good war comics, requiring no prior experience with anime or mecha or Gundam – just a well-made, old-fashioned war comic, full of thrills and spills and lucky breaks and narrow escapes and preening villains you'll love to hate and pigheaded heroes you may hate to love, and expert drawings by a master craftsman, and hard, sturdy violence." - Joe McCulloch, The Comics Journal
"It's not often that I bother taking up space just to discuss the presentation of a book, but this is certainly one of Vertical's finest releases. Both the graphic and actual material design of the cover is special, and the interior is of a much higher quality than your average manga. This especially holds true throughout the healthy handful of color sections, which look absolutely gorgeous on the glossy paper stock...The whole package is an absolute must for fans of Gundam, but I'd say there's plenty to enjoy in this nearly 450-page monster for anyone remotely interested in mech action and sci-fi storytelling." - Otaku USA
"This is the root of all the tropes and themes of Gundam but with a loving layer of refinement that cleans up a lot of the rough edges of the original...It many ways this is the clearest vision of the original story and a great place to start as well as revisit." - Reverse Thieves
"From the painted opening prologue, the storytelling is of an incredibly high standard, with Yasuhiko's touch servicing action scenes especially well. Visual highlights abound... It's a dazzling, action packed ride, and I'd recommend it highly." - Anime UK News