Experiencing Nirvana: Grunge in Europe, 1989 (Hardcover)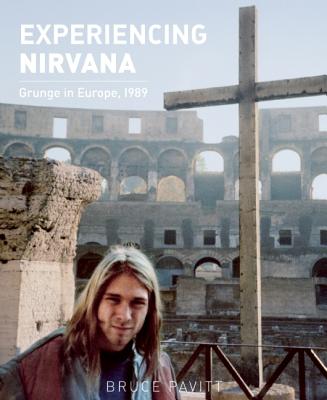 $38.45

Available in our Warehouse: Usually Ships in 3-8 Days
Description
---
"Experiencing Nirvana" is a photo journal, grunge rock micro-history, and an inside look into a crucial eight-day period in the touring life of Nirvana. In the last days of 1989, the young band goes from breaking up in Rome to winning over the influential British music press at Sub Pop's LameFest U.K. showcase in London, setting the stage for their imminent popularity. At the end of a grueling six-week European tour to promote their "Bleach" debut, the band was exhausted and Cobain frustrated and downcast. Despite a stolen passport and an attempt to leap from a 14-foot speaker tower, Cobain managed to continue to London. Opening for Tad and Mudhoney at the Astoria Theatre on November 27, 1989, Nirvana's heart-pounding performance won over the crowd. The powerful London music press proclaimed that Nirvana to be Sub Pop's answer to the Beatles. Within two years, the band would become the biggest rock act of their generation. This is the photographic story of the breakthrough that almost never happened.

About the Author
---
Bruce Pavitt was born in 1959 in Chicago. At the age of nine, he sold Christmas cards door-to-door in the summer heat, earning enough money to buy his first record playerand soon after, his first record, Revolution, by the Beatles.

In 1979 he enrolled at the Evergreen State College in Olympia, WA. He spent time as a DJ at KAOS-FM, and in 1980 started his own zine, "Subterranean Pop," aka "Sub Pop," which reviewed hard-to-find independent rock recordings. Bruce moved to Seattle in 1983 and started writing the Sub Pop music column for The Rocket. He hosted a Sub Pop radio show on KCMU, and in 1984 co-founded Fallout Records, the first indie record store in Seattle s Capitol Hill district. His complete zines and Rocket columns, an unrivalled document of American independent music during the 1980s, are collected in the book "Sub Pop U.S.A.: The Subterranean Pop Music Anthology, 19801988" (Bazillion Points).

In 1986 Bruce launched the Sub Pop record label with the release of the Sub Pop 100 compilation, featuring bands including New York s Sonic Youth and Seattle s U-Men. With business partner Jonathan Poneman, Bruce opened the doors in 1988 to the Sub Pop offices at First and Virginia in downtown Seattle. By the early 1990s Sub Pop had released recordings by Nirvana, Soundgarden, Mudhoney, Mark Lanegan, Beat Happening, Tad, the Walkabouts, and Steven Jesse Bernstein, and had helped initiate a global interest in Seattle area music.

After 17 years living on Orcas Island, Bruce Pavitt is back in Seattle, living with his family. He remains active in music by speaking at conferences and festivals, consulting with artists and music labels, and working as a DJ. A true music fan, Bruce continues to study music history in every genre.

"
Praise For…
---
The book is amazing, and so perfectly representative of that time. I swear, looking through those pictures brought me right back to being in a cold, damp van with a bunch of smelly musicians, having the time of our lives!"Dave Grohl

"For over thirty years Bruce Pavitt has been at the vanguard of popular culture advancing social and artistic trends, ideas, and movements within the community of the innovative and alternative. Experiencing Nirvana is part rock 'n roll travelogue and part voyeuristic pop culture rubberneckingan unromantic yet nostalgic glimpse into a rock social movement just prior to its explosion."Kim Thayil, Soundgarden

"Few people can lay claim to starting a rock 'n' roll revolution, but Sub Pop Records founder Bruce Pavitt can do just that."Paper Mag

"One of those perfect records of music history that galvanizes the pedestrian as easily as the aural devotee."Dangerous Minds

"The book reveals a side of these bands that most fans have not seen: unknown, homesick, silly, and brimming with the unpolluted exhilaration of impending success. The result is a raw portrait that is free of the rock star mythologizing that kicked into gear as soon as Nirvana signed to Geffen Records."Forbes

"For some strange and inexplicable reason, none of these photos from the tour have been published in print until now.... Put on your smiley-faced shirt with X'd out eyes, crank up Bleach, and enjoy."Vice

"Experiencing Nirvana is an interesting and breezing read and a must-have for any grunge or Nirvana fan. It gives a unique perspective on the time period told through the words and photography of the people who were there.Popmatters

"Exquisite"Q

"Excellent"The Stranger

"Vibrant"Seattle Times

"Fascinating"San Antonio Current

"Amazing"Danko Jones

"Sub Pop co-founder Bruce Pavitt chronicles the long ride across Europe, documenting every victory and speed bump along the road to a vital but unsung event that would change the face of rock 'n' roll."Creative Loafing

"After signing Nirvana to Sub Pop, Pavitt took the band on its first European tour in 1989, with opening gigs for label mates Mudhoney and Tad. With his Olympus pocket camera, Pavitt took countless shots on that eight-day Europe trip. Photos from venue stages and inside dressing rooms shed some light on a 22-year-old Cobain."CBS News

"Pavitt's photos, taken on the fly with a pocket-sized Olympus, reveal a would-be superstar still in development. Experiencing Nirvana finds Cobain free of the burden of fame that would plague him only a few years later."Entertainment Weekly

"The previously unpublished photographs show a young Kurt Cobain, wild-eyed and volatile in some photos, shyly happy in others. The candid shots follow the group as they made their way from Rome to London."Rolling Stone

"It is one man's document of the not so calm before the storm, a unique pictorial essay capturing a fledgling band developing into one of the most vital bands of our time It doesn't get much more intimate and authentic."Louder than War

"Required reading"Sweden Rock

"Holy Sh*t... an inside look into a crucial eight day period in the touring life of Nirvana."Guitar World

"Experiencing Nirvana also provides another important aspect of that band's early life: Nirvana as an independent act on an independent label. Pavitt's words and photos effectively present this other side of Nirvana, to fans only familiar with the post-Nevermind version of the band."Stephen Tow, The Weeklings