Beauty Is a Verb: The New Poetry of Disability (Paperback)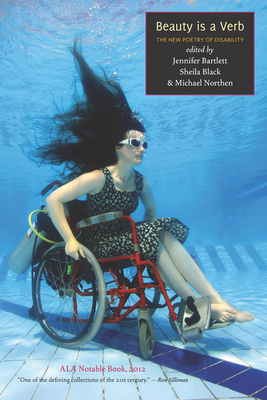 $19.95
This item is not currently available to order.
Description
---
Chosen by the American Library Association as a 2012 Notable Book in Poetry.
Beauty is a Verb is a ground-breaking anthology of disability poetry, essays on disability, and writings on the poetics of both. Crip Poetry. Disability Poetry. Poems with Disabilities. This is where poetry and disability intersect, overlap, collide and make peace.
BEAUTY IS A VERB] is going to be one of the defining collections of the 21st century...the discourse between ability, identity & poetry will never be the same. --Ron Silliman, author of In The American Tree
This powerful anthology succeeds at intimately showing...disability through the lenses of poetry. What emerges from the book as a whole is a stunningly diverse array of conceptions of self and other."--Publishers Weekly, starred review
From Beauty and Variations by Kenny Fries:
How else can I quench this thirst? My lips
travel down your spine, drink the smoothness
of your skin. I am searching for the core:
What is beautiful? Who decides? Can the laws
of nature be defied? Your body tells me: come
close. But beauty distances even as it draws
me near. What does my body want from yours?
My twisted legs around your neck. You bend
me back. Even though you can't give the bones
at birth I wasn't given, I let you deep inside.
You give me--what? Peeling back my skin, you
expose my missing bones. And my heart, long
before you came, just as broken. I don't know who
to blame. So each night, naked on the bed, my body
doesn't want repair, but longs for innocence. If
innocent, despite the flaws I wear, I am beautiful.
Sheila Black is a poet and children's book writer. In 2012, Poet Laureate Philip Levine chose her as a recipient of the Witter Bynner Fellowship.
Disability activist Jennifer Bartlett is a poet and critic with roots in the Language school.
Michael Northen is a poet and the editor of Wordgathering: A Journal of Poetics and Disability.
Praise For…
---
This powerful anthology attempts to — and succeeds at — intimately showing … disability through the lenses of poetry … What emerges from the book as a whole is a stunningly diverse array of conceptions of self and other." — Publishers Weekly, starred review

[Beauty is a Verb] is going to be one of the defining collections of the 21st century … the discourse between ability, identity & poetry will never be the same." — Ron Silliman, author of In the American Tree

A groundbreaking collection, bringing together those, like Larry Eigner and Josephine Miles…and powerful new voices, like Amber DiPietra and Rusty Morrison. As the poets and poems speak to — and sometimes argue with — one another, we see a new strain of poetry growing before or eyes. The effect is far more than cumulative: it is astonishing." — Anne Finger, author of Elegy for a Disease

"This is a sensational, stunning book — one of the best literary collections in a very long time. We are speaking about powerful writing changing us — readers of Beauty is a Verb will be mightily, irrevocably altered and enlarged — in ways we deeply need to be. Thank you authors and editors for a brilliant anthology." — Naomi Shihab Nye, author of Fuel

"Revelatory, provocative, harrowing, and bold, the poems are also accompanied by personal essays that create thresholds into each poet's whys and wherefores. These voices range from the specific and personal to the abstract and philosophical, sweeping any reader — including the temporarily able — into the profoundest questions of how to live." — Molly Peacock, author of The Paper Garden

"Immerse yourself in muscular poems of tenderness and intensity, intimate poems of eloquence and bluntness, profound poems that present disability's difficulty, challenge, and pride — all the while exploring the triumph of the human condition." — Marie Kane, author of Survivors in the Garden

[T]his insightful new collection deserves the widest audience possible." — NewPages Book Review