Peter Paul and Mary: Fifty Years in Music and Life (Hardcover)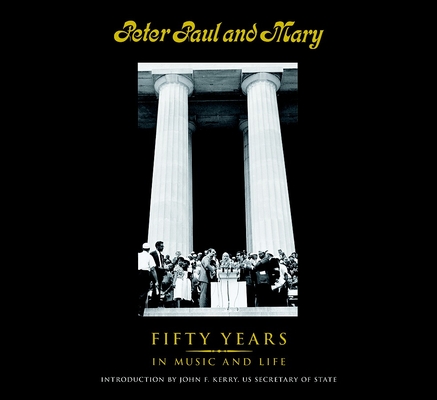 $38.50
Available in our Warehouse: Usually Ships in 3-8 Days
Description
---
This carefully crafted and collectible volume tells the intimate story of Peter, Paul, and Mary and their music, in their words and with iconic images that follow their passionate, fifty-year journey to the center of America's heart. Photographs, many rare and never before published, taken over five decades by some of the world's top photographers, follow them from their earliest performances in the 1960s, when Mary was the most desired, beautiful, and charismatic performer and a new role model for women. Follow the trio as they lead America to discover the passionate soul of folk music. Join the struggle for racial equality, social justice, and freedom in this memorable journey, from the historic 1963 March on Washington with Martin Luther King, Jr., to the trio's appearance before a half million people in 1969 to end the Vietnam War, to their singing at the Hollywood Bowl for Survival Sunday in 1978, helping to launch the anti-nuke movement, the world's first international environmental movement.


Through these images, readers will feel and almost hear the trio's songs calling for a more caring, better world as they performed with a courage and conviction that became for so many the embodiment and soundtrack of their generation's awakening to conscience, to activism, and to a new dream for all of humankind. Peter, Paul, and Mary's songs of defiant hope and a certain unmasked innocence are still a powerful part of our American consciousness, and this book reenacts the history of how the trio marked many lives with their indelible stamp of honesty of the sort we all yearn to recapture and recreate today—for ourselves, our children, and the generations to come.
About the Author
---
Peter, Paul, and Mary came into being at the dawn of John F. Kennedy's presidency, as America entered one of its most dramatic periods of social and political change. With music being one of the great forces that brought them together, Americans united in unprecedented ways to create a more just and peaceful society. Folk music, with its ability to reach people's hearts, became the sound track of this remarkable quest, and Peter, Paul, and Mary became standard-bearers of America's new hopes and dreams.
Praise For…
---
Celebrating 50 Years of Peter, Paul and Mary — Give or Take


Peter, Paul and Mary, the trio that became stars of the 1960s folk music boom, and had enduring hits with their covers of Bob Dylan's "Blowin' in the Wind," Pete Seeger's "Where Have All the Flowers Gone" and songs of their own like "Puff the Magic Dragon," have assembled a three-pronged celebration of their 50th anniversary – or at least, what the surviving members, Noel Paul Stookey and Peter Yarrow (Mary Travers died in 2009) are calling their 50th anniversary.

A new album, "Discovered: Live in Concert," will include 13 songs the group performed in concert but never recorded in the studio. The recordings were made at a handful of concerts in the 1980s, and rediscovered when the group was compiling "Carry It On," its 2004 career overview. Only one of the songs, "Mi Caballo Blanco," was included in that set. The remaining 12 – among them, "Midnight Special," "You Can Tell the World" and "Cactus in a Coffee Can" – are previously unissued. Rhino will release the set on Nov. 17.

Also due in November is a coffee table book, "Peter, Paul and Mary: 50 Years in Life and Song" (Imagine/Charlesbridge). And on Dec. 1, PBS will air a documentary, "50 Years With Peter, Paul and Mary," which promises to include archival footage from the group's appearances at Civil Rights and antiwar demonstrations.

Exactly why this fall should be regarded as the group's 50th anniversary, however, is a mystery. The trio was formed in 1961, and released its first album, "Peter, Paul and Mary," in 1962. That would make it closer to 54 years.

"Yeah, it's kind of an inside joke," Mr. Stookey explained in an email. "Do you remember the PP&M album called 'Late Again'? We have a reputation for taking longer than expected because we're meticulous and sensitive to each other's reservations. We never did a thing as a trio that all three of us didn't agree on. We finally agreed on this book – Mary in absentia, mostly, though much of her writings contributed to the text, as well as our recollections of conversations and attitudes."

- The New York Times, October 21, 2014
We appreciate your continued support!
If you would like to make a donation to help us through CLICK HERE.