Healing Autoimmune Disease: A Plan to Help Your Immune System and Reduce Inflammation (Paperback)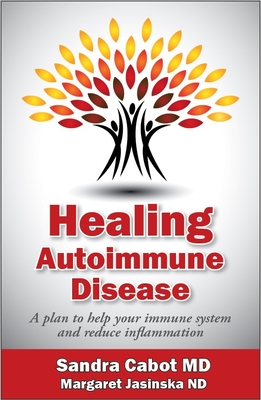 $20.00
This item is not currently available to order.
Description
---
Autoimmune disease affects approximately one in 20 people and is one of the most significant health problems in the USA. There are more than 80 different autoimmune diseases, ranging from skin conditions such as psoriasis, to potentially life threatening diseases such as lupus, Crohn's disease and multiple sclerosis.An autoimmune disease occurs when a person's immune system launches an attack against their own cells, tissues and/or organs. This results in inflammation throughout the body, and potential damage to specific organs. Conventional medicine states that there is no cure for autoimmune disease, and the patient is usually placed on a cocktail of powerful immune suppressing drugs. Although in the short term these drugs can be life saving, in the long term they have significant side effects that are sometimes worse than the original disease, and they can even increase the risk of cancer.In this book, Dr Sandra Cabot and naturopath Margaret Jasinska give the reader a step by step plan for healing autoimmune disease, reducing inflammation, alleviating symptoms and halting autoantibody production, thereby stopping tissue destruction. This book offers a medically proven approach to assisting immune system disorders.In this book, the reader will learn: - The role of specific foods and supplements in reducing inflammation and healing the immune system.- The detrimental effects of gluten on the immune system, inflammation and intestinal health of people with autoimmune disease.- How common nutritional deficiencies can raise the risk of developing an autoimmune disease.- How leaky gut syndrome is a factor in triggering autoimmune disease.- The role of hormones in influencing autoimmune disease.- How vaccinations and environmental chemicals can trigger autoimmune disease in some people.- Which specific foods to avoid and which foods to eat more of.- Recipes for healing autoimmune disease.
About the Author
---
Dr Sandra Cabot is the author of twenty five books on health including the famous Liver Cleansing Diet book which has sold over 2 million copies and is translated into 6 languages. She graduated with Honors in Medicine and Surgery in 1975 from Adelaide University, South Australia. During the 1980s Sandra spent considerable time working in the Department of Obstetrics and Gynecology in a large missionary hospital in the Himalayan foothills of India.Dr Cabot has lectured for the American Liver Foundation, The Primary Biliary Cirrhosis Society and The Hepatitis C Council of Australia where she was the protagonist in the great debate "Does the liver need a good cleanse?"Dr Cabot is involved in raising funds for women's refuges in Australia and is an Angel Flight pilot for disadvantaged patients living in rural Australia. Margaret Jasinska is a naturopath with more than eighteen years of clinical experience. Margaret has co-authored eight books with Dr Cabot. She divides her time between seeing patients at Dr Cabot's clinic, writing and researching new developments in health and medicine.Margaret's main area of interest is in digestive and immune system disorders. She greatly enjoys empowering individuals to improve their health by giving them the tools and knowledge to lead healthier lives. Health and wellness is a great passion and hobby of hers.