Plotted: A Literary Atlas (Hardcover)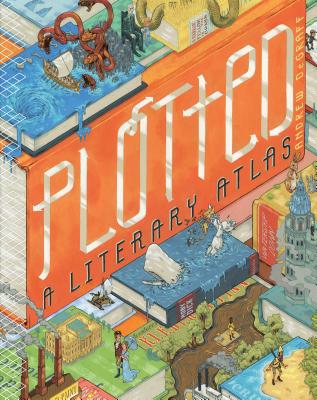 $24.99
This item is not currently available to order.
Description
---
This incredibly wide-ranging collection of maps—all inspired by literary classics—offers readers a new way of looking at their favorite fictional worlds. Andrew DeGraff's stunningly detailed artwork takes readers deep into the landscapes from The Odyssey, Hamlet, Pride and Prejudice, Invisible Man, A Wrinkle in Time, Watership Down,A Christmas Carol, and more. Sure to reignite a love for old favorites and spark fresh interest in more recent works as well, Plotted provides a unique new way of appreciating the lands of the human imagination.
About the Author
---
Andrew DeGraff attended Pratt Institute in Brooklyn and also teaches there. His clients include Kellogg's, Visa, Gap Kids, Bed Bath & Beyond, The New York Times, and The New York Observer. He now makes his home in the San Francisco Bay Area.
Daniel Harmon is a former staff writer for Brokelyn.com, an occasional essayist on the topic of Tommy Wiseau's film The Room, and the author of the book Super Pop! Pop Culture Top Ten Lists to Help You Win at Trivia, Survive in the Wild, and Make It Through the Holidays (2013).
Praise For…
---
*A 2015 Booklist YA Editor's Choice Pick
"A map is worth a thousand words. San Francisco-based illustrator Andrew DeGraff has created 19 idiosyncratic and highly detailed maps based on the landscapes and locales in popular literature, from Odysseus' punishingly circuitous route to the time continuum of 'A Wrinkle in Time.'" –
Wall Street Journal
"Plotted
, at first glance, is merely beautiful—gorgeous multipage maps, drawn by DeGraff, of
Frederick Douglass' Eastern Shore
and the rabbits' warrens of
Watership Down
. But as you read DeGraff's clever accompanying essays, you realize that what you're holding is actually quite an innovative work of literary criticism, offering new ways of looking at books and stories that seemed entirely familiar."—
Slate
"[A] stunningly illustrated collection of maps. . . allows readers a unique look at their favorite fictional worlds. . . The perfect package for you, or the perfect gift for that literature lover in your life."—
A.V. Club
"These brilliant literary maps will help you understand your favorite book." –
Smithsonian.com
"[B]eautiful maps that enhance classic works like
Hamlet
,
Pride and Prejudice
,
Invisible Man
,
A Wrinkle in Time
,
Watership Down
,
A Christmas Carol
, among others, while standing on their own as storytelling pieces."—
Tor.com
"This is a rewarding excursion across the literary landscape that will be cherished by map enthusiasts as well as bibliophiles."—
Publishers Weekly (starred review)
Playing with aerial perspectives, proportions, and cut-away views, DeGraff fits a stunning amount of narrative and atmospheric information into his spirited, detailed visualizations, each in a style        perfectly, if completely unexpectedly, suited to the tale. . . A unique, display-ready volume of great  allure and pleasure."—
Booklist (starred review)
"Andrew DeGraff . . . has created a book of literary maps that any book addict will love."—
Buzzfeed
"Andrew DeGraff combines imaginative artistic skill and a cartographer's ability to visualize space in a stunning series of book-based maps." –
MentalFloss
"[DeGraff] will take you on an adventure worthy of Bilbo Baggins and mesmerize you with the detail and imagination put into his literary maps. DeGraff approaches each story differently and crafts maps that truly tell stories. . . [L]iterary fans need to put this on your shopping list and soon."—
Nerdist
"[A] collection of maps that convey not only the locations of fictional universes, but the trajectories of the characters who move through them. Your favorite books come to life in Andrew De Graff's
Plotted
"—
Huffington Post
"[DeGraff is] a genius at identifying and connecting a work's key coordinates, then using them as the basis for remarkable visualizations. Each of his colorful, ingenious maps is accompanied by an introductory essay. With
Plotted
,
he guides literature lovers off the beaten path and into newly charted territory."—
Bookpage
"[A] sumptuous, colorful, feast for the eyes. . . I can't think of a better book in which to lose yourself this holiday season."—
The Quivering Pen