S.T.A.B.L.E. - Cardiac Module: Recognition and Stabilization of Neonates with Severe Chd (Paperback)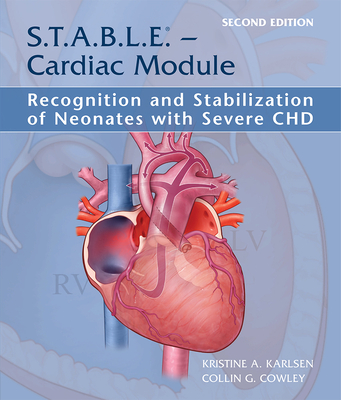 Description
---
S.T.A.B.L.E. - Cardiac Module: Recognition and Stabilization of Neonates with Severe CHD will be valuable to any healthcare provider responsible for the recognition and stabilization of newborns with severe forms of CHD. Nurses, advanced practice nurses, physician assistants, and physicians working in all settings-- neonatal, neonatal transport, well-baby, and pediatric and cardiac intensive care settings will gain critical knowledge for the highest standard of care. The updated 2nd edition contains more than 120 new full-color illustrations making it an excellent teaching tool for healthcare providers and parents The 2nd edition features: - A comprehensive explanation of neonatal CHD, starting with a history and physical examination.
- New Common palliative care for and surgical correction of the CHD lesions illustrated in this book.
- Expanded tables and figures help explain complex concepts in a practical, easy-to-understand format.
- Thorough explanation of critical forms of CHD, covering anatomy, blood flow pattern, clinical presentation, and initial stabilization. The illustrations in the book are very useful for explaining complex heart lesions and palliative and surgical repair to parents of infants with severe forms of CHD.

About the Author
---
Kristine A. Karlsen, PhD, APRN, NNP-BC, FAAN is a neonatal nurse practitioner who has been involved in neonatal care in a variety of settings including transport, education, patient care, and simulation for more than 35 years. She is the founder of the internationally recognized S.T.A.B.L.E. Program and author and developer of The S.T.A.B.L.E. Program Pretransport / Postresuscitation stabilization neonatal education course, The S.T.A.B.L.E. - Cardiac Module course (book and slide program), the STABLEize(TM) app (for Apple and Android), The S.T.A.B.L.E. Program's Gestational Age and Physical Assessment of the Newborn slide program, and the Neonatal Stabilization Scenarios Guidebook, based on The S.T.A.B.L.E. Program curriculum. More than 650,000 students have completed a S.T.A.B.L.E. Program course, and the Program is taught in more than 45 countries. Collin G. Cowley, MD, joined the faculty of the University of Utah in 2000 after completing fellowships in pediatric cardiology and interventional catheterization at the University of Michigan. Over the next 20 years, he pursued his interests in clinical care, research, education, and clinical administration and was promoted to tenured Professor in 2013. Dr Cowley is a fellow of the American Academy of Pediatrics and the American College of Cardiology. Dr Cowley remains passionate about patient care and recently retired from the University of Utah to join Mednax Health Solutions in opening several pediatric cardiology offices in northern Utah.