Freddie Mercury: Lover of Life, Singer of Songs: Lover of Life, Singer of Songs (Hardcover)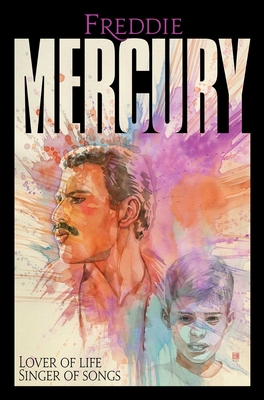 $24.99
This item is not currently available to order.
Description
---
The Legendary Rock Icon to be Honored In An All-New Book Inspired By His Music, Life, and Words

For the first time in comics format, Freddie Mercury: Lover of Life, Singer of Songs will be a journey through Freddie's life; from his childhood in Zanzibar, through his formative years in England, to becoming the rock star, known and loved by millions around the globe. The story is told in his own words, with each chapter giving a glimpse into the many facets of his life.

Written by Tres Dean (All Time Low Presents: Young Renegades), the graphic novel will give true insight into the many experiences that helped shape the young Farrokh Bulsara and his compelling existence, both on and off stage—that was the life of Freddie Mercury, Lover of Life, Singer of Songs.
About the Author
---
Tres Dean is an author from Richmond, VA. In 2019 his debut essay collection FOR YOUR CONSIDERATION: DWAYNE "THE ROCK" JOHNSON was published by Quirk Books. He's also a comic creator whose work has appeared across numerous publications including Dark Horse and Image Comics. Most recently he wrote ALL TIME LOW: YOUNG RENEGADES and FREDDIE MERCURY: LOVER OF LIFE, SINGER OF SONGS for Z2 comics. As a journalist his work has appeared in GQ, Vulture, Men's Health, Uproxx, SyFy, and many others. He lives in Brooklyn, where most days you can find him drinking too much coffee and tweeting passionately about the Toronto Raptors.

Kyla Aiko is an author and artist who lives in a town with an ocean view. When not writing or drawing, you might find them making handmade noodles or listening to their favorite songs on repeat. You can see Kyla's work as a letterer and touch-up artist in DANDADAN, LOVE'S IN SIGHT!, RURIDRAGON, SUPER SMARTPHONE, THE SECRET OF THE RAVENS, and more. FOXLIGHT, Kyla's solo fantasy graphic novel debut is forthcoming from Feiwel and Friends/Macmillan, and you can see more art and writing at aikosmith.com.

Robin Richardson is a Glasgow based illustrator. They have a versatile style and specialise in digital art for graphic novels and illustration. Before graduating with first class honours in Illustration from Middlesex University, Robin had completed a diploma in Illustration for the Film and Gaming Industry in Malaysia. An avid gamer and movie watcher, they enjoy working on projects that connect to themes that raise awareness in areas such as mental illness or LGBT issues. Robin is hard at work creating their original graphic novel alongside their agent, which had been a dream for them since a very young age.

Safiya Zerrougui is a cartoonist, character designer, and illustrator based in Montreal, Quebec. Her work pulls inspiration from her Kabyle heritage, fashion history, bold colors, and intricate patterns. Give her a sketchbook, a cup of coffee, and a museum archive website and she'll be entertained for weeks!



She has worked as an illustrator with DC Comics on their upcoming graphic novel "Wonderful Women of History" as well as with HBOmax as a key artist and character designer. She has also contributed to Kickstarter-funded art books such as From the Legends and Dames, Warrior Women of Legends.



From Vancouver, BC in Canada, and graduating cum laude from the Maryland Institute College Art, Ames (or Amy) is an illustrator who draws their inspiration from their own life, nature, music, and other things they find beautiful or humorous. In their spare time, they like to ride the longboards that they design and paint as well as try to teach themselves guitar.

Freddie Mercury was a singer-songwriter and musician whose music reached the top of U.S. and British charts in the 1970s and 1980s. As the frontman of Queen, Mercury was one of the most talented and innovative singers of the rock era.

Tammy Wang is a Chinese-American artist currently based in New York. She attended California College of the Arts in Oakland and graduated with a BFA in animation in 2018. She has worked on and off as a barista during her time in school and a little bit after (where she finally mastered latte art). She also worked a variety of jobs such as walking dogs, selling dumplings, and teaching kids art while continuously building her portfolio. As of right now, she currently works in freelance illustration.