El ruiseñor / The Nightingale (Paperback)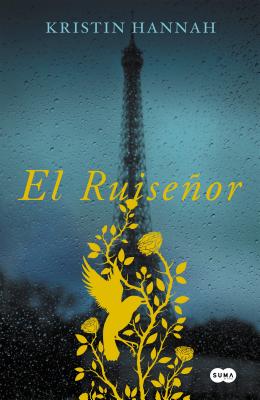 $19.95
This item is not currently available to order.
Description
---
Dos hermanas buscan su propio camino hacia la supervivencia, el amor y la libertad en la Francia ocupada durante la Segunda Guerra Mundial.

50 semanas en el TOP 10 del New York Times
Más de 1.500.000 de ejemplares vendidos
Uno de los 10 libros más vendidos en USA en 2015
Premio Goodreads Mejor Novela de Ficción Histórica.

Francia, 1939. En el tranquilo pueblo de Carriveau, Vianne Mauriac se despide de su marido, Antoine, que debe marchar al frente. Ella no cree que los nazis vayan a invadir Francia, pero lo hacen, con batallones de soldados marchando por las calles, con caravanas de camiones y tanques, con aviones que llenan los cielos y lanzan bombas sobre los inocentes. Cuando un capitán alemán requisa la casa de Vianne, ella y su hija deben convivir con el enemigo o arriesgarse a perderlo todo. Sin comida ni dinero ni esperanza,Vianne se ve obligada a tomar decisiones cada vez más difíciles para sobrevivir.

La hermana de Vianne, Isabelle, es una joven rebelde de dieciocho años que busca un propósito para su vida con toda la temeraria pasión de la juventud. Mientras miles de parisinos escapan de la ciudad ante la inminente llegada de los alemanes, Isabelle se encuentra con Gaëton, un partisano que cree que los franceses pueden luchar contra los nazis desde dentro de Francia. Isabelle se enamora completamente pero, tras sentirse traicionada, decide unirse a la Resistencia. Sin detenerse nunca para mirar atrás, Isabelle arriesgará su vida una y otra vez para salvar a otros.

En el amor descubrimos quiénes queremos ser.
En la guerra descubrimos quiénes somos en realidad.

«Me entusiasmó El ruiseñor de Kristin Hannah, una escritora con gran talento para crear historias con magníficos personajes, excelentes argumentos y fuertes emociones.¿Se puede pedir más en una novela?»
Isabel Allende

Reseñas:
«Un libro que no se puede dejar... Este homenaje emocionante y emocional a las valientes mujeres que lucharon tras las líneas enemigas en la Segunda Guerra Mundial está destinado a conseguir para la ya inmensamente popular Hannah una audiencia todavía mayor. El Ruiseñor lo tiene todo para arrasar en el mundo editorial.»
Booklist

«Una novela llena de emoción y corazón.»
Library Journal

«El Ruiseñor es una exploración hermosamente escrita y enormemente evocadora de la vida, el amor y los estragos de la guerra, y de las diversas maneras en que las personas reaccionan ante situaciones inimaginables. Esta poderosa historia está repleta a partes iguales de acción y emoción, y está garantizado que será un gran éxito. ¡Me encantó!»
Sara Gruen, autora del best seller Agua para elefantes

«Hannah trata con maestría el drama de la guerra a través de dos mujeres cuya fuerza de carácter brilla más allá de sus diferencias.»
Publishers Weekly

ENGLISH DESCRIPTION

In love we find out who we want to be. In war we find out who we are. France, 1939 In the quiet village of Carriveau, Vianne Mauriac says goodbye to her husband, Antoine, as he heads for the Front. She doesn't believe that the Nazis will invade France ... but invade they do, in droves of marching soldiers, in caravans of trucks and tanks, in planes that fill the skies and drop bombs upon the innocent. When a German captain requisitions Vianne's home, she and her daughter must live with the enemy or lose everything. Without food or money or hope, as danger escalates all around them, she is forced to make one impossible choice after another to keep her family alive. Vianne's sister, Isabelle, is a rebellious eighteen-year-old girl, searching for purpose with all the reckless passion of youth. While thousands of Parisians march into the unknown terrors of war, she meets Gäetan, a partisan who believes the French can fight the Nazis from within France, and she falls in love as only the young can ... completely. But when he betrays her, Isabelle joins the Resistance and never looks back, risking her life time and again to save others. With courage, grace and powerful insight, bestselling author Kristin Hannah captures the epic panorama of WWII and illuminates an intimate part of history seldom seen: the women's war. The Nightingale tells the stories of two sisters, separated by years and experience, by ideals, passion and circumstance, each embarking on her own dangerous path toward survival, love, and freedom in German-occupied, war-torn France--a heartbreakingly beautiful novel that celebrates the resilience of the human spirit and the durability of women. It is a novel for everyone, a novel for a lifetime..
About the Author
---
Kristin Hannah nació en 1960 en el sur de California. Aunque estudió Derecho, con la publicación de su primer libro, en 1990, se convirtió en escritora profesional. Desde entonces ha ganado numerosos premios y ha publicado 22 novelas de gran éxito, entre ellas El baile de las luciérnagas y el best seller internacional El Ruiseñor.