Destination Unknown: What Happens to Us When We Die? People from Around the World Weigh in on Humanity's Greatest Unsolved Mystery (Paperback)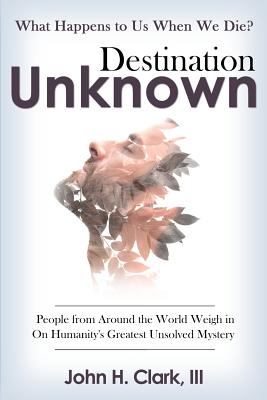 $12.64

Available in our Warehouse: Usually Ships in 3-8 Days
Description
---
Do You Know Your Life's Purpose?
Are you looking for more meaning in your life? Are you tired of just getting through each day instead of feeling a sense of purpose and direction? Sometimes the answer to a question is best explored in reverse. In order to find more purpose in life, perhaps we need to go to the end-death-and work backwards from there. Is it possible that contemplating death can lead to more meaning in life?
Is There Such a Thing as Life After Death?
What happens to us after we die? Do we see our loved ones who have passed? Do we enter a white tunnel of life? Do we go straight to Heaven or Hell? Or is there simply blackness? Since the dawn of time, human beings have been asking these very questions. The subjects of life, death, and purpose are arguably the most important we will ever encounter.
Questions of Death, Answers for Life
John Clark has tackled the weighty subject of life after death in his newest book, Destination Unknown. Through interviews with people all over the globe-Buddhists, atheists, Christians; men and women; young and old; school teachers, IT professionals, and military personnel-he has compiled a tapestry of views on death that are as diverse as the people themselves. Some believe in ghosts, spirits, and other dimensions. Some are sure they will meet God, be judged, and sent to Heaven or Hell. Some have had near death experiences. But no matter what the beliefs, there is a sense that contemplating the great unknown-what happens when we die-creates more meaning to the days we have left on this earth.
About the Author
---
John Henry Clark III is an award-winning journalist, freelance writer, author and avid golfer who was born and raised in Texas. He grew up in northwest Houston playing sports at Oaks Dads Club and attending church with his parents, but decided as he got older that things he learned in Sunday school no longer made much sense. Since then, he has spent a lifetime seeking answers and exploring a variety of beliefs. After a successful career as a newspaper reporter, Clark turned his lifetime love for learning into a new career as a public school teacher, and that gave him time during the summer months to pursue his project to research and write a book describing what people believe about God and why they believe what they believe. That effort turned into the book, Finding God: An Exploration of Spiritual Diversity in America's Heartland. A tireless seeker, researcher and questioner, John has written a number of other fascinating books dealing with the human experience, from tragedies to triumphs and more, including Camino: Laughter and Tears along Spain's 500-mile Camino de Santiago.