Reckless Whisper (Off the Grid: FBI #2) (Paperback)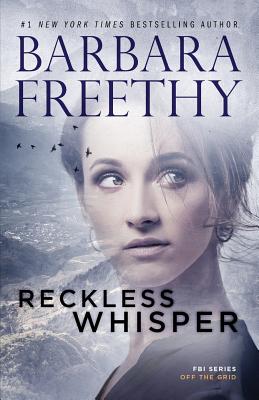 $17.94

Available in our Warehouse: Usually Ships in 3-8 Days
Description
---
In RECKLESS WHISPER the suspense continues with the second novel in the Off the Grid: FBI Series by #1 New York Times Bestselling Author Barbara Freethy.
FBI Special Agent Bree Adams has a personal secret, something she has managed to keep hidden for the past ten years-at least she always thought so... But a chance encounter on a train, and whispered words of chilling consequence change everything. Is the truth about to come out or is someone playing with her mind and her life?
Nathan Bishop knew Bree when she was a street kid like him. Their dark past once put him in her debt, and he had to pay up. The last thing he wants to do is help her again. He has a new life now--a life he could lose with one wrong move. But the beautiful Bree is desperate--how can he walk away?
To get to the truth, protect innocent lives and their own, they'll have to fight their way through the past, as danger stalks their every move, and heartbreaking choices must be made.
Don't miss this emotionally deep and haunting story A thrilling psychological romantic suspense novel
Check out the other books in the series
Perilous Trust #1
Reckless Whisper #2
Desperate Play #3 - Coming Soon
Elusive Promise #4 - Coming Soon
Dangerous Choice #5 - Coming Soon
PRAISE FOR OFF THE GRID: FBI SERIES
"What I love best about Freethy's books are the characters and the depth she puts in them, the story can be as good as ever, but if you don't care about the characters you can't help but be unbothered by the events unfolding. This story has so many twists and turns that I read it in one sitting.....a must read for everyone, I don't want to ruin anything so I will just say.....WOW" Booklovers Anonymous Blog on Reckless Whisper
"Perilous Trust is a non-stop thriller that seamlessly melds jaw-dropping suspense with sizzling romance, and I was riveted from the first page to the last...Readers will be breathless in anticipation as this fast-paced and enthralling love story evolves and goes in unforeseeable directions." USA Today HEA Blog on Perilous Trust
"Getting tangled up with Perilous Trust is a rush. Barbara Freethy sets the adrenaline level so high that it takes a while to come back down to solid ground. A tortured love affair sets off a chain of events that are explosive and deadly. The suspense is killer, the danger is intense and the electricity generated between Sophie and Damon is off the charts. All come together to a create a lethally seductive thriller." Isha Coleman - I Love Romance Blog on Perilous Trust
"The adventure that Barbara Freethy takes us on in PERILOUS TRUST is full of twists and turns. It is a perfect suspense that will keep you guessing until the very last moment. This book definitely deserves 5 stars." Reading Escape Reviews on Perilous Trust
PRAISE FOR BARBARA FREETHY BOOKS
"Powerful and absorbing...sheer hold-your-breath suspense."- NYT Bestselling Author Karen Robards on Don't Say A Word
"A fabulous, page-turning combination of romance and intrigue. Fans of Nora Roberts and Elizabeth Lowell will love this book."- NYT Bestselling Author Kristin Hannah on Golden Lies
"A page-turner that engages your mind while it tugs at your heartstrings...Don't Say A Word has made me a Barbara Freethy fan for life " -- NYT Bestselling Author Diane Chamberlain on Don't Say a Word