Cradled by Skeletons: A Life in Poems and Essays (Paperback)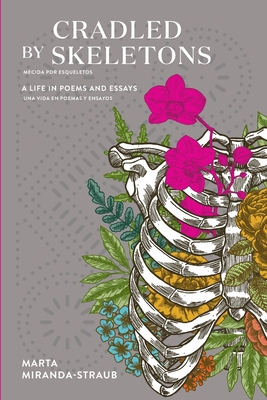 $20.00
This item is not currently available to order.
Description
---
"The poetry and essays in Cradled by Skeletons embrace immigrants, broken people, and people otherwise disillusioned and dispossessed. Their heartfelt beauty and hunger for justice impart a sense that all be welcomed, as all are worthy."
Foreword Clarion Reviews

Cradled by Skeletons, a memoir in verse of a queer woman of color, an immigrant/refugee, and a social justice activist, is a raw expression of identity and place. Marta Miranda-Straub relates her experiences of trauma, resilience, and transformation and portrays how her life's work as a social worker, educator, leader, activist, advocate, and community organizer has been fueled by discernment, resistance, and transformation of individual, institutional, and societal systems of power. She has a keen sense of awareness and questions injustices with intention, compassion, humility, and humor. There is a shared connection with both the victim and the perpetrator in her writings that exalts the grit and grace of humanity.

About the Author
---
MARTA M. MIRANDA-STRAUB is a poet and storyteller who has spent her life working toward equity and inclusion and creating systems change. Her activism has focused on advancing social and economic justice for marginalized communities. In Cradled by Skeletons: A Life in Poems and Essays, she explores themes of complex and multiple identities within the experiences of birth, childhood, family, exile, trauma, addiction, resilience, community, discrimination, and social justice work. It is Marta's hope to expand readers' capacity for love of the other, especially during these abhorrent political waves of hate, violence, and scapegoating of those seeking political asylum in the United States.
Until the age of twelve Marta was raised in Pinar del Rio, Cuba. In 1966 she immigrated to New Jersey with her family. As a refugee family from Cuba, they were resettled by Catholic Charities in September 1966 in West New York, New Jersey, with a sponsor family. They left their extended family, photo albums, toys, worldly belongings, language, culture, flag, and land on the island. Marta now lives and works in Louisville, Kentucky, and she describes herself affectionately as a Cubalachian-a combination of Cuban and Appalachian. When she arrived in Kentucky and saw the beauty of the "old and worn mountains," she "knew that [she] could be an American, a Cuban-American, as long as [she] could live and die in Kentucky."
Marta is a queer Latinx woman who lives and works at the intersection of identities, ethnicity, race, gender, and sexualities-applying an intersectional feminist lens to all she does. She has over forty years of experience in organizational and clinical social work practice, during which she has held multiple roles, including professor, social researcher, author, psychotherapist, executive leader, fundraising professional, community organizer, advocate/activist, executive coach, facilitator, trainer, and public speaker. She was inducted into the Affrilachian Poets by Frank X Walker in 2009. Marta has read and performed poetry and stories nationally at universities, literary venues, conferences, marches, and rallies.
Praise For…
---
"The heartfelt poetry and essays in
Cradled by Skeletons impart an argument that all be welcomed, as all are worthy."
"At once intimate, poignant, and raw, the entries of Cuban American poet, essayist, and activist Marta Miranda-
Straub's Cradled by Skeletons reflect how she lives, loves, and creates at the intersections of queerness, feminism,
and of being an American immigrant of color.
"Miranda-Straub relates that her boundary crossing began early. Her poem 'The Cradle' shares a message received from her twin sister who died in the womb: "Always remember that your big sister is watching out for you. Breathe, beat, swim, stretch, grasp, swallow. Your time is now." Elsewhere, "The Feast" pays homage to her Cuban grandmother's abiding love.
"Striking and multisensory, lines evoke the smells of orange peel and melted brown sugar; the flame of red tiles lining the stove; the cracked porcelain of the sink; and the sight of her grandmother's hands as she prepares the special treat to carry on the trip to America. 'I carry Abuelita's warmth and sweetness close to my sprouting chest,' she writes. Spare and eloquent, the chosen words carry deeper messages about grief and hope. Other poems hold tragedy and rage: 'When Ancestors Call' is about the legacy and brutality of slavery and rape, while 'The Prince Was a Frog'
captures the disillusionment and pain of an unhappy marriage and ends with the urge to rise up and claim a new life.

"Profound essays concentrate on joy, sorrow, and astonishment. 'On Being Brown in the South' is a moving expression of Miranda-Straub's love for the mountains of Kentucky, so strong that she identifies as 'Cubalachian,' although she looks, lives, and loves in different ways than most of her neighbors. Her shock and hurt is palpable when, though she is an American citizen, a white Appalachian neighbor questions her right to vote based on her appearance.
"Elsewhere, the writing is warm and humorous. 'A Day in the Life,' about the adventures of two inexperienced women living in the mountain wilderness, includes the reflection that "we don't know how to properly handle poisonous snakes…all those years of Catholic graduate education, and not one damn course in snake handling."
"Presented in both English and Spanish, the book is an expression of vitality and of being open to all that life has to offer. It approaches American society with both appreciation and criticism, noting that, while it is rich in material things, it operates out of fear of scarcity and of difference, rendering Latino people, the latest and largest group of immigrants to the US, targets of racism. The text invites a larger, more curious, and more welcoming worldview.
"The poetry and essays in Cradled by Skeletons embrace immigrants, broken people, and people otherwise disillusioned and dispossessed. Their heartfelt beauty and hunger for justice impart a sense that all be welcomed, as all are worthy." Foreword Clarion Reviews


"In all her many languages and through these prayers and sermons masquerading as poems, Marta wraps her wings around victims of domestic violence, the addict, and each and every broken one of us, seeing only familia in the faces of the dispossessed.

"In well-crafted and big-hearted poems like 'Addiction', 'Social Justice Prayer,' and 'How to Eat a Pomegranate,' she shows us what it means to leave this place better than the way we found it, to love without restrictions, to yoke every injustice to each other in more than words alone.

"Thank the ancestors for gifting us a poet teacher healer who would spit in the master's soup, in order to save all of us. We survived a past ruled by everything straight, white and male. Marta has left us with evidence that the future is [indeed] female, dark and queer…"

FRANK X WALKER, Kentucky Poet Laureate 2013–2015 and author of Last Will, Last Testament

"In Cradled by Skeletons, Marta Miranda-Straub gifts her readers a time capsule of poems and essays brimming with precious scenes, fragrances, and voices that stretch from Cuba to Appalachia. To absorb Marta's life as a self-proclaimed queer woman of color/an Afro-Caribbean/a political refugee feels like sacred work, where we witness women who trade veils for machine guns, copperheads that stretch out to sun in the mountains, moments where the lives of people and Orishas are obliged to intersect, and others where prayer and activism collide on behalf of the collective. Marta's greatest strength is that her voice remains inclusive and warm and vibrant, as much as she urges her readers to not look away from their pain. In the tradition of her father and shamanic lineage, Marta too, serves as a kind of hollow bone, inviting us not just to read, but to linger, belly to belly, to taste, to share, to breathe."

BIANCA LYNNE SPRIGGS, Affrilachian Poet and author of Black Mermaid

"Intersectionality is a buzz-word these days, but Marta Miranda-Straub doesn't just advocate for it: she embodies it. Originally from Cuba, she calls herself Cubalachian, having lived in the Kentucky mountains and allied with the Affrilachian poets. In Cradled by Skeletons, she articulates her experience as a queer woman of color, a feminist, an immigrant/ refugee, a social worker and worker for social justice. She speaks out for the voiceless, evoking the communal spirit of justice/. . . el spirito de comunidad y justicia. Despite the horrors she has witnessed, her vision is hopeful, committed to change. When she names the current administration's true agenda as 'Make America White Again,' she jolts us with her clarity and courage."

GEORGE ELLA LYON, Kentucky Poet Laureate 2015-2016 and author of Many-Storied House

"Carol Hanisch taught us the truth that the personal is political. Audre Lorde and Gloria Anzaldúa taught us that we sometimes need to speak in multiple voices and multiple genres—that there is no other way to serve as witness to the world and give voice the concert of selves we might contain. Lorde further taught us that we must transform silence into action and self-revelation. Hanisch, Anzaldúa, Lorde, these three sisters and more, many more, stand with Miranda-Straub as she sings her stories in verse and prose. Let us stand beside her and sing."

JEREMY PADEN, author of Prison Recipes and ruina montium