How to Braise Everything: Classic, Modern, and Global Dishes Using a Time-Honored Technique (Hardcover)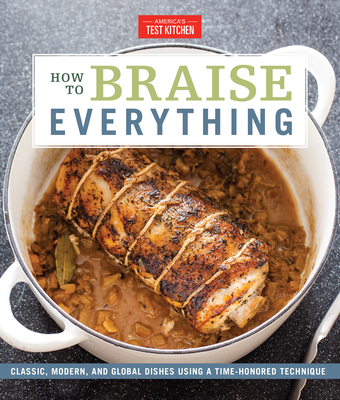 $38.50
This item is not currently available to order.
Description
---
With one simple, mostly hands-off technique, you'll unlock deep flavors in meat, poultry, seafood, and even vegetables in this authoritative guide of 200 foolproof, unique recipes.

Braises are far from just stews! The treasured technique of cooking food slowly and gently in liquid is a pillar of cuisines around the world, and How to Braise Everything is a modern master class. You'll learn that a pot roast cooks much in the same way as a warm-spiced Moroccan lamb tagine, savory Spanish stewed chickpeas, or even a pot full of hearty bacon-enhanced collard greens. The elemental method is simple: Combine your main ingredient with a flavorful liquid, cook (usually) at a low temperature, and you're left with superbly tender meat or vegetables and a flavorful sauce or broth, both parts benefitting from an exchange of flavors. But this simplicity doesn't mean there's not a right and a wrong way to braise. When should you sear your meat before its bath? Should you presoak your beans? What's better for braising: the oven or the stove? You'll discover tricks to coax out as much flavor as possible from braised subjects in streamlined recipes. We cover comforting favorites like Old-Fashioned Pot Roast and classics like Chicken Cacciatore while also bringing the technique up to date, exploring international dishes with vibrant flavors like Mexican Chicken with Pumpkin Seed Sauce and Hake in Saffron Broth with Chorizo and Potatoes. Verdant vegetable sides like Braised Spring Vegetables with Tarragon and hearty bean dishes like Curried Lentils with Golden Raisins complete the meal.
About the Author
---
America's Test Kitchen is well-known for its top-rated television shows with more than 4 million weekly public television viewers, bestselling cookbooks, magazines, websites, and cooking school. The highly reputable and recognizable brands of America's Test Kitchen, Cook's Illustrated, and Cook's Country are the work of over 60 passionate chefs based in Boston, Massachusetts, who put ingredients, cookware, equipment, and recipes through objective, rigorous testing to identify the very best. Discover, learn, and expand your cooking repertoire with Julia Collin Davison, Bridget Lancaster, Jack Bishop, Dan Souza, Lisa McManus, Tucker Shaw, Bryan Roof, and our fabulous team of test cooks!
Praise For…
---
"Family favorites and flavorful variations prove equally mouthwatering as ATK puts its spin on a classic form of cookery."
--Publisher's Weekly

"The first 33 pages are devoted to explaining various cuts of meat, types of fish and even the best side dishes to serve to soak up the wonderful juices created by a braise. Along the way, plentiful illustrations and informational boxes help guide even the most novice cook. The recipes range from sophisticated company fare to homey Saturday night supper dishes."
--Portland Press Herald