The Russians and Prussians in the Seven Years War (Hardcover)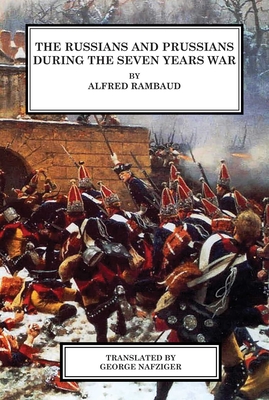 $32.00

Available in our Warehouse: Usually Ships in 3-8 Days
Description
---
A history of the Prussian and Russian forces that fought in the Seven Years War

This translation of the classic history of the Prussians and Russians in the Seven Years War details operational history of these forces. It includes color and black and white images.
About the Author
---
Alfred Rambaud (1842 - 1905) was a French historian who wrote political and military history. He threw himself into the study of Russian history, staying in Russia in order to learn its language, institutions and customs. In 1874 he took part in the 3rd Archeological Congress that was held in Kiev, and wrote a report on it for the "Revue des Deux Mondes". On his return, he published La Russie épique, a study of the dumas, Ukrainian epic songs (1876), a short but excellent Histoire de la Russie depuis les origines jusqu'à l'année 1877 (1878; 5th ed., 1900), Français et Russes, Moscou et Sévastopol 1812–1854 (1876; 2nd ed., 1881), and finally the two important volumes on Russian diplomatic history in the Recueil des Instructions données aux ambassadeurs (vols. vii. and ix., 1890 and 1891). He was not improbably moved by considerations of foreign policy to publish his Russes et Prussiens, guerre de Sept Ans (1895), a popular work, though based on solid research. After teaching history in the Faculties of Arts at Caen (1871) and Nancy (1873), he was called to the Sorbonne (1883), where he was the first to occupy the chair of contemporary history

George Nafziger earned his BS from Miami University in 1971, his MBA from Miami University in 1976, and his Ph.D. in Military History from The Union Institute in 1999. He served in the navy, retiring as a Captain in the US Navy Reserves. He is a former director of the Napoleonic Society of America; the Napoleonic Alliance was on the board of directors of HMGS East. Nafziger is the owner of The Nafziger Collection publishing house, specializing in military history. As of 2013, it produces 385 different titles on military history ranging from the Middle Ages through the Korean War, with a heavy emphasis on the Wars of the French Revolution, the Napoleonic Wars, and World War II. As a publisher of obscure military works, he is constantly seeking authors with unpublished manuscripts on military history that are seeking a publisher.