Tiny Travelers Haiti Treasure Quest (Board Books)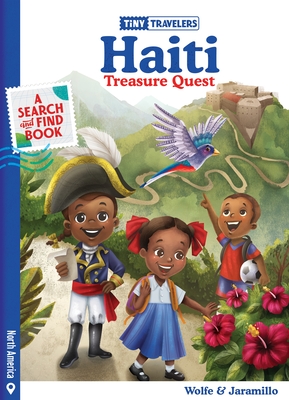 Email us for price & availability: info@oblongbooks.com
Special Order - Subject to Availability
Description
---
Inspire children to fall in love with the world they live in with Tiny Travelers
The Tiny Travelers Treasure Quest Series takes its readers on a fun-filled journey to discover what makes each country special with search-and-find features on every spread. In Tiny Travelers Haiti Treasure Quest, readers journey from the historic Port-au-Prince to the cobalt-blue pools of Bassin Bleu. From the festive sights and sounds of Rara to the fishing spots of Ile a Vache, Tiny Travelers will enjoy getting closer to Haitian sights, history, and culture, making magical discoveries along the way. Each illustrated spread invites children to discover hidden treasures -- icons, animals, statues, instruments and more -- that make up incredible Haiti. Most kids today are told that it's a small world, when in fact it's a really big world, says Encantos CEO and Tiny Travelers creator and author Steven Wolfe Pereira. And because the world is so big, there are many countries, cities, and cultures that have yet to be discovered and explored by kids. We created Tiny Travelers to foster curiosity, empathy, and understanding by learning what makes people and places so special. A+ educational content....Wonderful... to share with young kids -- to broaden their horizons and discover new places of interest " -- Common Sense Media Purpose is at the core of the Tiny Travelers launch...The goal is to expose kids to the vastness and diversity of the world beyond their backyards, engendering empathy for different cultures, geographies and languages at a time when people all over the world are more connected than ever via digital platforms. -- Forbes The books are full of fun facts, hidden easter eggs, and rhyme-based storytelling. They're infused with keywords from the featured country's language, helping teach kids correct pronunciation and useful phrases for travel. -- Parentology
About the Author
---
Steven Wolfe Pereira is the Chairman and Co-Founder of Encantos. A Dominican-American born in New York, Steven has been inspired by a world of cultures ever since he was an International Relations major at Tufts University. An avid traveler, Steven has lived all over the world from France to Japan to Mexico and has visited more than 50 countries. A Fulbright scholar, Steven is a proud father of two tiny travelers and lives with his wife Nuria in Los Angeles. Susie Jaramillo is a mom, an artist and a creative director raising 2 tiny travelers in Brooklyn, NY. She attended Pratt Institute in Brooklyn where she majored in painting and illustration. She worked for many years in advertising until she decided to return to her roots in illustration. Susie has always been a student of culture and loves traveling. With this series she has combined her love for travel, culture & art in the hopes that young children will develop a curiosity about the world, and aspire to get to know it better.
We appreciate your continued support!
If you would like to make a donation to help us through CLICK HERE.