One Million Followers: How I Built a Massive Social Following in 30 Days (Hardcover)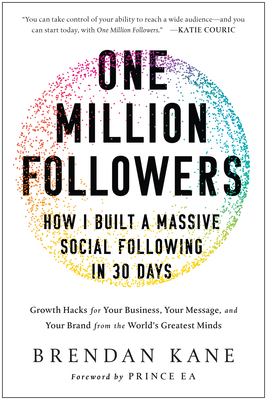 $26.95
This item is not currently available to order.
Description
---
Over 60 billion online messages are sent on digital platforms every day, and only a select few succeed in the mad scramble for customer attention.
This means that the question for anyone who wants to gain mass exposure for their transformative content, business, or brand or connect with audiences around the globe is no longer if they should use social media but how to best take advantage of the numerous different platforms.
How can you make a significant impact in the digital world and stand out among all the noise?
Digital strategist and "growth hacker" Brendan Kane has the answer and will show you how--in 30 days or less. A wizard of the social media sphere, Kane has built online platforms for A-listers including Taylor Swift and Rihanna. He's advised brands such as MTV, Skechers, Vice and IKEA on how to establish and grow their digital audience and engagement. Kane has spent his career discovering the best tools to turn any no-name into a top influencer simply by speaking into a camera or publishing a popular blog--and now he'll share his secrets with you.
In One Million Followers, Kane will teach you how to gain an authentic, dedicated, and diverse online following from scratch; create personal, unique, and valuable content that will engage your core audience; and build a multi-media brand through platforms like Facebook, Instagram, YouTube, Snapchat, and LinkedIn.
Featuring in-depth interviews with celebrities, influencers, and marketing experts, including:
Chris Barton, cofounder and board director of Shazam and former head of Android business development for Google
Ray Chan, CEO and cofounder of 9GAG
Julius Dein, internet personality and magician with nearly 16 million Facebook followers
Mike Jurkovac, Emmy Award-winner and creative director of will.i.am and the Black Eyed Peas
Phil Ranta, former COO of Studio71 and VP of network at Fullscreen
Eamonn Carey, managing director at Techstars London
Jonathan Skogmo, founder and CEO of Jukin Media, Inc.
Jon Jashni, founder of Raintree Ventures and former president and chief creative officer of Legendary Entertainment
One Million Followers is the ultimate guide to building your worldwide brand and unlocking all the benefits social media has to offer. It's time to stop being a follower and start being a leader.
About the Author
---
Brendan Kane is a growth hacker for Fortune 500 corporations, brands, and celebrities. He helps brands find and engage new audiences, which reward relevant content, products, and services with attention and spending. Currently, he is advising Strike Social regarding entertainment partnerships. Strike Social is the largest TrueView Advertising and YouTube Intelligence company in the world. Strike Social runs over 2,500 TrueView campaigns a day for brands such as: Disney, Fox, NBC, Netflix, XBOX, LinkedIn, and many notable fortune 100 companies. Brendan started his career at Lakeshore Entertainment where he oversaw all aspects of Lakeshore's interactive media strategy. At Lakeshore, he worked on 16 films that generated a worldwide gross of $685 million dollars. While at Lakeshore, Brendan pioneered the first ever influencer campaign to effectively promote Lakeshore's movies. Brendan went on to build applications and platforms for celebrity clients such as Taylor Swift, Rihanna, Xzibit, Charles Barkley, Michael Strahan, super model Adrianna Lima, and pro skateboarder Ryan Sheckler. Brendan is known for creating an innovative application for Taylor Swift and Rihanna that can automatically turn any Facebook profile into a website in less than 60 seconds. More than 50 million people worldwide have accessed the applications and platforms that Brendan created for his celebrity clients. He also served as a consultant for the NHL and NFL Players Association on how to bolster their digital offering to both players and fans.