Activist: A Story of the Marjory Stoneman Douglas Shooting (Zuiker Teen Topics) (Hardcover)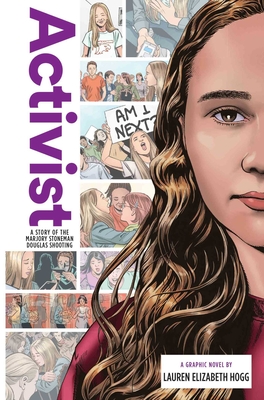 $12.99

Available in our Warehouse: Usually Ships in 3-8 Days
Description
---
Lauren Hogg, one of the survivors of the shooting at the Marjory Stoneman Douglas school in Parkland, Florida, dramatically tells her story in graphic novel form. The tragedy of yet another mass shooting has galvanized the young people of the country, and helped launch a movement that continues to gain momentum. Lauren Hogg lost her two best friends that horrible day, but despite her loss she, along with other Parkland students, found her voice and created meaning from the horrors of that day.

On February 14, 2018, Valentine's Day, Lauren Elizabeth Hogg lost her two best friends in the now notorious school shooting at Marjory Stoneman Douglas High School in Parkland, Florida. In all, seventeen people were gunned down by the shooter, a student at the school. Survivors of that tragic day vowed to rise up and fight for their right—and the right of kids everywhere—to safety in their schools.

Lauren and her brother David were brought up together in a tight-knit family, where lessons about compassion, responsibility, and civic duty were always a part of their lives. Their mother, Rebecca Boldrick Hogg, has long pursued a life of activism, working to help the less fortunate in her community. Their father, Kevin Hogg, a retired FBI agent, dedicated his life to keeping citizens safe and secure.

But neither parent could do much to answer Lauren's tearful questions after that horrific day: "Why not me? Why am I still here?" All they could do was urge her to put her lessons to work. She has done that here, by telling her own story in this powerful graphic novel about that fateful day—and beyond.

Through her grief, Lauren found her calling, joining in the protests of #NeverAgain and the "March for Our Lives." She and her brother, and so many other Parkland students refuse to allow the memory of their fallen classmates to be forgotten. Empowered with a unique voice, Lauren Elizabeth Hogg is truly an activist for our times.
About the Author
---
Lauren Elizabeth Hogg is a 15-year-old from Parkland, Florida. She attends Marjory Stoneman Douglas High School as a sophomore where she carries a 4.5 GPA. Lauren is actively involved in the "March For Our Lives" campaign. Her mission is to help raise awareness of gun violence in our country and change current laws that put students in jeopardy.

Michelle and Anthony E. Zuiker are the Founders of Zuiker Press. The husband and wife couple develop and publish "real" stories of young people suffering from issues that affect children every day. Mrs. Zuiker is an 18-year educator from Las Vegas, Nevada. Mr. Zuiker is well known as the Creator/Executive of CSI: Crime Scene Investigation, the most popular franchise on CBS television and the most successful TV show is global history.

Illustrator Don Hudson has been a professional artist in Los Angeles for twenty years. He's had the opportunity to work in comics, animation, Advertising and even Broadway! If you want to know more about Don, go to www.dchudson.blogspot.com.
Praise For…
---
Hogg relates her experience of surviving the Marjory Stoneman Douglas High School shooting and her journey to becoming a gun control advocate.This is a strong—and unfortunately relevant—addition to the publisher's series of graphic treatments of contemporary social issues. Hogg tells her tale in a compelling voice, and the book begins with a page of arresting graphics, showing slender, then-high school freshman Hogg. She introduces herself and relates that she was on campus when 17 people died of bullet wounds on Valentine's Day 2018. After revealing that two of her close friends died in the massacre, Hogg notes, "I lost my friends, but I found my calling." A full page shows her and other students—fists in the air—beneath the slogan #NEVERAGAIN. Anecdotes about Hogg's relationships with her mother, father, brother, and closest friends cleverly both inform readers about Hogg's personality and foreshadow later incidents. In the midsection, Hogg relates her memories of the fateful day of the shooting. The images are appropriately gripping but never sensationalized. The final section covers grief, survivor guilt, and increasing empowerment—including students challenging the National Rifle Association. The use of "congressmen" for both male and female members of Congress is a startling regression, especially since Hogg is so politically aware. Hogg is white, and the diversity of her school community is represented in the illustrations.Inspiring and heartbreakingly timely. (about the author, photographs, note for parents) (Graphic memoir. 10-14) STARRED REVIEW!
— KIRKUS

"A great book written for teens by a peer that shows how, out of tragedy, strength and hope can grow."


— Traci Glass