Costalegre: A Novel Inspired By Peggy Guggenheim and Her Daughter (Hardcover)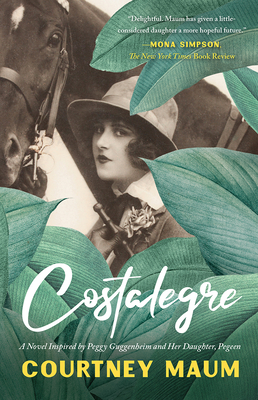 Description
---
"Delightful ... In Lara, Maum has given a little-considered daughter a more hopeful future." —Mona Simpson, The New York Times Book Review
"Maum's slender, intelligent Costalegre is about many things: art as spectacle and art as discipline; life as joke and life as tragedy; the role of unreason in paintings and politics. But most of all, it's about the youthful desire to be, in Lara's words, contemplated and considered — to be, in short, loved." — The Boston Globe
One of Glamour's Best Books of the Decade and a Best Book of Summer at AM New York, Moda Operandi, GOOP, Publishers Weekly, TIME, Southern Living, and Thrillist.
It is 1937, and Europe is on the brink of war. Hitler is circulating a most-wanted list of "cultural degenerates"—artists, writers, and thinkers whose work is deemed antithetical to the new regime. To prevent the destruction of her favorite art (and artists), the impetuous American heiress and modern art collector Leonora Calaway begins chartering boats and planes for an elite group of surrealists to Costalegre, a mysterious resort in the Mexican jungle.
The story of what happens to these artists when they reach their destination is told from the point of view of Lara, Leonora's neglected fifteen-year-old daughter. Forced from a young age to live with her mother's eccentric whims, tortured lovers, and entourage of gold-diggers, Lara suffers from emotional, educational, and geographical instability that a Mexican sojourn with surrealists isn't going to help. But when she meets the outcast Dadaist sculptor Jack Klinger, Lara thinks she might have found the understanding she so badly craves.
Heartbreaking and strange, Costalegre is inspired by the real-life relationship between the heiress Peggy Guggenheim and her daughter, Pegeen. Courtney Maum triumphs with this wildly imaginative and curiously touching story of a privileged teenager who has everything a girl could wish for—except a mother who loves her back.
About the Author
---
Courtney Maum is the author of the novels Touch and I Am Having So Much Fun Here Without You, the chapbook Notes from Mexico, and the handbook Before and After the Book Deal: A Writer's Guide to Finishing, Publishing, Promoting, and Surviving Your First Book. Her writing and essays have been widely published in such outlets as BuzzFeed; The New York Times; O, The Oprah Magazine; and Modern Loss. She is the founder of the learning collaborative The Cabins, and she also works as a product and cosmetic shade namer from her home in Connecticut.
Praise For…
---
Delightful . . . In Lara, Maum has given a little-considered daughter a more hopeful future.
— Mona Simpson

Maum's slender, intelligent Costalegre is about many things: art as spectacle and art as discipline; life as joke and life as tragedy; the role of unreason in paintings and politics. But most of all, it's about the youthful desire to be, in Lara's words, contemplated and considered?to be, in short, loved.


A lush chronicle of wealth, art, adventure, loneliness, love, and folly toldby a narrator you won't be able to forget.

If anything can be taut and lush at once, Maum's novel fits the bill.

This
is a fascinating, lively, and exquisitely crafted novel.

A brilliantly arch and haunting novel of privilege and deprivation.

This mother-daughter dysfunctional relationship is beautifully explored by Maum (Touch) in a soul-searching, atmospheric novel set in a hot, humid climate as torrid as the affairs of the characters who inhabit it.


An arty, lavish novel, Costalegre examines one of the relationships that is often the most surreal to dissect: the one between mother and daughter.


Maum's coming-of-age novel among some of Europe's elite is heartbreaking in its evocation of a teenage girl whose mother collects artists to save but who ignores the daughter struggling not to drown. Maum captures the language and the intense flux of adolescent lability. She does it so well that readers may feel they've intruded on something private.

With both humor and criticality, Maum's coming-of-age novel probes the hypocrisy of the art world, the challenges of being a child of artists, and the dangers of not being loved.

When young Lara finds herself in Costalegre, living with her mother and a gaggle of 19th century surrealist artists, wonder and mayhem ensues. With this slim novel, Courtney Maum has gifted her readers with a breathtaking meditation on youth, art, and the ever-mysterious bonds between mothers and daughters. Costalegre is a spectacular high-wire act that dazzles and devastates.

— Laura van den Berg, author of The Third Hotel

Courtney Maum's Costalegre is a marvel—so lively, intimate, and strange you don't read so much as dream the voice and visions of Lara, our 15 year old narrator writing from a house full of surrealists in Mexico, as they wait out WWII. This is an unforgettable book, by a writer who proves on these pages that she can do anything.

— Julie Buntin, author of Marlena

Mesmerizing and unsettling, Costalegre is a wonder, and Courtney Maum shows herself once again to be a writer of many gifts. This is a book for anyone who's ever loved, and not felt sufficiently loved in return; and for anyone who's had to try to grow up; for, that is, everyone.

— R.O. Kwon, author of The Incendiaries

This story of a daughter searching for connection all around her has a sharp cutting edge, a world which changes its mood in an instant; bleak as the dregs of a wine-soaked dinner, then bullish as a house of hapless surrealists attempting to boil an egg. Memorable and meaningful, Maum's work remains with me as a reminder of love in the agony of teenage years and art in the terror of war.
— Amelia Gray, author of Isadora

Here is war and here is art. And here is a child trying to become an adult in the midst of a Mexican exile. Maum's stirred a brew of careless Bohemians, Führers and failed art students, negligent mothers and missing museums. Costalegre is as heady, delirious and heartbreaking as a young girl just beginning to fall in love with our world.

— Samantha Hunt, author of The Dark Dark

In this story where our 15-year-old narrator is more mature and intuitive than the adult artists who surround her, bursts of brilliance hit me—chapter after chapter—like waves crashing against the shores of this allegorical Mexican coast. With its captivating mix of true-to-life characters and WWII history, Costalegre is surreal, intelligent, and full of integrity.

— Mark Eisner, author of Neruda: The Biography of a Poet
We appreciate your continued support!
If you would like to make a donation to help us through CLICK HERE.